China Overtakes Japan as World's Second-Biggest Stock Market
Bloomberg News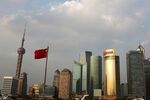 China surpassed Japan as the world's second-largest stock market for the first time in three years amid growing investor confidence that policy makers in Beijing will revive the economy with monetary stimulus.
China's market capitalization climbed to $4.48 trillion yesterday after a 33 percent increase this year, according to data compiled by Bloomberg. Japan's slipped to $4.46 trillion and has dropped 3.2 percent since the end of December. China was briefly the second-biggest market, behind the U.S., in March 2011 after an earthquake in Japan sent shares tumbling in Tokyo.
While the weakening yen played a role in Japan's shrinking market value in dollar terms, the Shanghai Composite Index has climbed three times as much as Tokyo's Topix this year. China cut interest rates for the first time since 2012 last week and economists predict authorities will take more steps to support an economy headed for its slowest annual expansion since 1990. The Shanghai gauge still has a price-to-earnings ratio 21 percent lower than its Japanese counterpart.
"I still have a very bullish stance" on Chinese shares, said Dickie Wong, an executive director of research at Kingston Financial Group in Hong Kong. "They're trading at low valuations."
The growth in China's market value, helped by the resumption of initial public offerings in January after a more than yearlong freeze, marks a turnaround for an equity market that was among the world's worst performers from late 2010 through the middle of last year. It comes as authorities give foreign investors unprecedented access to mainland shares through the Shanghai-Hong Kong exchange link.
Market Rally
China's stocks rose for a seventh day today, sending the Shanghai gauge to a three-year high on record turnover, amid speculation the central bank may continue to loosen monetary policy. The People's Bank of China yesterday refrained from selling repurchase agreements for the first time since July. That follows the Nov. 21 announcememt that lending and deposit rates would be cut.
The Shanghai measure rose 2 percent to 2,682.84 at today's close. It's up 27 percent this year, set for its steepest annual advance since 2009. The index trades at 12.8 times reported earnings, compared with 16.2 for Japan's Topix index.
Banks dominate China's biggest companies. Industrial & Commercial Bank of China Ltd. is the largest mainland-listed company with a market value of $223.1 billion, according to data compiled by Bloomberg. Agricultural Bank of China Ltd. and China Merchants Bank Co. were ranked second and third. ICBC has advanced 13 percent in Shanghai in 2014, while Agribank gained 15 percent and China Merchants Bank climbed 12 percent.
China Bulls
"Keep buying China," said Douglas Morton, head of Asia research at equity brokerage Aviate Global LLP. "It is this time of year we generally get government policy supporting the economy to hit full-year targets and when next year's growth targets are announced. We expect more supportive policy and an imminent reserve-requirement ratio cut."
Both Chinese President Xi Jinping's Communist Party and Japanese Prime Minister Shinzo Abe's ruling coalition have stepped up economic stimulus this year. The Topix has gained 6.9 percent in 2014 through yesterday, while the yen weakened 10 percent against the dollar, on Abe's policies of unprecedented monetary easing and increased government spending.
China surpassed Japan as the world's second-largest economy in 2010. Its gross domestic product was valued at $9.2 trillion last year, about 89 percent more than Japan's, data compiled by Bloomberg show. China's market capitalization data includes companies with a primary listing on mainland exchanges.
— With assistance by Shidong Zhang
Before it's here, it's on the Bloomberg Terminal.
LEARN MORE