After Targeting Soda, Berkeley, California, Sets Sights on Cellphones
A proposed new law would require cell phone vendors to include an information sheet for customers warning them of potential cell phone health risks.
By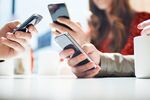 The nanny state is alive and well in Berkeley. Less than a month after the Northern California town passed a landmark penny-per-ounce tax on sugar sweetened drinks in order to combat obesity, Berkeley's city council voted to craft a new ordinance that would require cell phone vendors to distribute information sheets warning of the devices' potential health risks. The council members are now debating what, exactly, the proposed law should tell residents.
Ten members of the public testified earlier this mont before the council about the perceived dangers of close cell phone use. One of those who spoke was UC Berkeley School of Public Health Professor Joel Moskowitz, Berkeleyside reported. 
Moskowitz, who said he has studied the cell phone safety issue for four years, said the "right to know" ordinance is a natural step for Berkeley given the city's long history as a strong advocate for public health. He described the new law as a "simple factsheet" for consumers telling them to read their user manual to learn about safety considerations related to the distance between one's body and their devices. 
Though the motion to pursue the wording of the proposed law passed by a vote of seven to two, not everyone who testified before the council was convinced that cell phones represent a public health threat. Dmitri Belser, the president of the Ed Roberts Campus and executive director of the Center for Accessible Technology, noted that brain cancer rates over the past few decades had not seen commensurate spikes to go along with the steep rise in cell phone use, Berkeleyside reported. 
The FDA, which has the power to take action against manufacturers and retailers if it finds that the level of radiofrequency energy emitted by cell phones is unsafe, has issued guarded assurances about the devices. From the FDA's website: 
There is no scientific evidence that proves that wireless phone usage can lead to cancer or a variety of other problems, including headaches, dizziness or memory loss. However, organizations in the United States and overseas are sponsoring research and investigating claims of possible health effects related to the use of wireless telephones. The Federal government is monitoring the results of this ongoing research, and the FDA is participating in an industry-funded research project to further investigate possible biological effects.
The Berkeley City Council has not yet set a date as to when it will vote on the wording of the new law.