After Targeting Soda, Berkeley, California, Sets Sights on Cellphones
A proposed new law would require cell phone vendors to include an information sheet for customers warning them of potential cell phone health risks.
By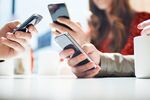 The nanny state is alive and well in Berkeley. Less than a month after the Northern California town passed a landmark penny-per-ounce tax on sugar sweetened drinks in order to combat obesity, Berkeley's city council voted to craft a new ordinance that would require cell phone vendors to distribute information sheets warning of the devices' potential health risks. The council members are now debating what, exactly, the proposed law should tell residents.