U.S. Regulator Demands Nationwide Takata Air-Bag Recall
Romaine Bostick and Jeff Plungis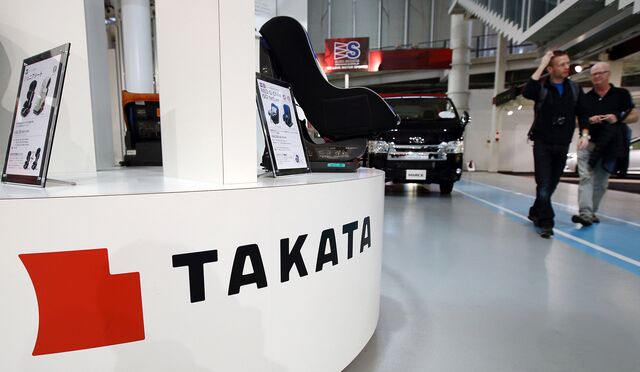 U.S. regulators formally demanded Takata Corp. implement a nationwide recall of defective air bags, saying the company's piecemeal approach to fixing a potentially deadly flaw in millions of cars is insufficient.
The National Highway Traffic Safety Administration told Takata in a letter yesterday to declare a recall by Dec. 2 that identifies a defect in "driver's side air-bag inflators and is nationwide in scope." Failure to do so may lead NHTSA to force a recall and issue civil fines of $7,000 per violation.
The company last week pushed back against calls by NHTSA to expand regional repair campaigns that primarily focused on 8 million cars in high-humidity U.S. states. Takata said recalling vehicles in other areas, where the risk of air bag malfunctions is lower, would aggravate a shortage of replacement parts and slow repairs.
"Takata has provided no justification for limiting the geographic scope to the high absolute humidity region," the head of NHTSA's Office of Defects Investigation, Frank Borris, said in the letter.
Takata spokesman Toyohiro Hishikawa said by phone that the company is discussing how to respond to the letter. The air-bag maker's shares fell 4.8 percent to 1,292 yen in Tokyo as of the close in Tokyo trading, while the benchmark Topix Index declined 1 percent.
NHTSA has been investigating Takata air-bag inflators that may malfunction if exposed to consistently high humidity. The agency has said the condition might cause the devices to deploy with too much force, break apart metal pieces and strike passengers. The air bags are linked to at least four deaths in Honda Motor Co. vehicles in the U.S. and another in Malaysia.
Toyota Motor Corp. today recalled 57,000 more vehicles for possible air-bag defects, the carmaker said in an e-mailed statement. Affected cars were made between December 2002 and March 2004 and include Vitz, Yaris and RAV4 models.
Chrysler Letter
Honda, Takata's biggest customer, is one of 10 automakers involved in the U.S. recalls. In a letter, NHTSA Deputy Administrator David Friedman asked Fiat Chrysler Automobiles NV to begin a recall by Dec. 1, almost three weeks earlier than the company had planned.
Chrysler made the decision in June to replace air-bag inflators in 371,000 vehicles in some states, though it didn't plan to notify consumers until Dec. 19, when replacement parts are available, its head of vehicle safety and regulatory compliance, Scott Kunselman, told a Senate committee last week.
He responded to NHTSA yesterday, saying in a letter that Chrysler is prepared to begin contacting customers on Dec. 8, though the automaker hasn't made a decision on expanding the number of regions in the recall.
Takata has already been struggling to ramp up production under the regional recalls. Takata's executive in charge of global quality assurance, Hiroshi Shimizu, said at the same hearing that Takata is producing more than 300,000 kits a month and will increase to as many as 450,000 in January.
In Japan, the transport ministry yesterday said a Takata air bag ruptured in a model not covered by existing models, suggesting automakers may have to expand safety campaigns. The ministry declined to name the automaker or model.
Before it's here, it's on the Bloomberg Terminal.
LEARN MORE