How Much Trickery Is Legal on Wall Street?
A trader says that if he's guilty of fraud, used-car dealers are, too
By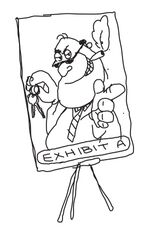 Former Jefferies Group managing director Jesse Litvak was convicted in March of defrauding investors of $2 million by misrepresenting the prices of mortgage-backed securities he was buying and selling. After Litvak was arrested, George Canellos, former deputy director of the U.S. Securities and Exchange Commission, said the statements Litvak made during the sales negotiations were "unfit for a used-car lot."
On Nov. 18, Litvak turned that declaration on its head when his lawyers warned the Court of Appeals for the Second Circuit in Manhattan that his conviction could be used to prosecuteany business involved in simple negotiations—including car dealerships. "Every car salesman who tells a customer that he cannot lower his price any further because he would earn only a minuscule profit on the sale as it is would be guilty of fraud," the lawyers said in a filing. The filing also said U.S. District Judge Janet Hall in New Haven gave "deficient" jury instructions and excluded evidence central to Litvak's defense. Thomas Carson, a spokesman for the U.S. Attorney's Office in New Haven, declined to comment.
Litvak was found guilty of securities fraud and making false statements, as well as fraud connected to the Troubled Asset Relief Program. He's the first person to be convicted of fraud tied to the Public-Private Investment Program, which used funds from the TARP bailout to spur investments in mortgage-backed securities after the 2008 financial crisis. The case raised questions about how much trickery is allowed in trading, with witnesses at his trial testifying that his tactics were common. In October the appeals court granted Litvak bail while he challenges his conviction, saying he raised "substantial" questions of law and fact that are "likely to result" in a reversal. He had been scheduled to report to prison on Nov. 5 to begin serving a two-year sentence. Prosecutors have not filed a reply to the Nov. 18 brief.
Even as Litvak challenges his conviction, the U.S. is building potential securities fraud cases against more mortgage-bond traders using his case as a model, according to two people with knowledge of the investigations who asked not to be identified because the matter is confidential. The government has been looking into the activities of as many as 10 traders who worked at banks including JPMorgan Chase, Royal Bank of Scotland, and Morgan Stanley, one of the people says.
In their brief, Litvak's lawyers argue that their client wasn't required to disclose Jefferies's profit on a transaction because the firm was a "principal" acting for its own account, buying bonds and selling them at a higher cost, and wasn't an agent acting for a customer's account. Litvak didn't dispute that he made misstatements, arguing at trial that they weren't material and that he didn't think the other parties in the transactions would be harmed, because he was selling the bonds at "fully disclosed and agreed-upon fair prices."
Prosecutors argued that Litvak's misstatements were material because the other parties would have negotiated harder if they'd known Jefferies's real profit. If upheld, that contention "would raise the specter of criminal liability for commonplace conduct in negotiations," his lawyers said. "All manner of misrepresentations, whether about a trader's monthly quota, about the time pressure on a deal, or about a shared love of a sports team, would qualify."
BOTTOM LINE -
The bottom line: A Jefferies trader convicted of defrauding investors out of $2 million says he was just doing what any salesman does.
Before it's here, it's on the Bloomberg Terminal.
LEARN MORE