Growth in U.S. Off to Slow Start in Fourth Quarter: Economy
Michelle Jamrisko and Victoria Stilwell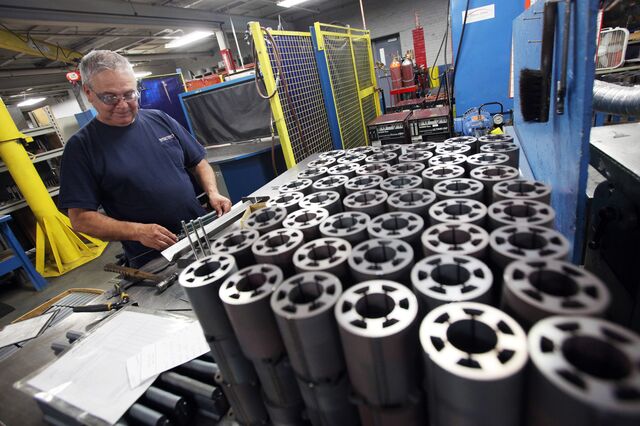 Growth in the world's largest economy got off to a slower start in the fourth quarter as U.S. consumer spending, equipment orders and new-home sales were weaker than forecast in October.
Household purchases rose 0.2 percent, less than the projected 0.3 percent gain in a Bloomberg survey, while bookings for non-military capital goods excluding aircraft unexpectedly fell 1.3 percent for a second straight month, Commerce Department data showed today in Washington.
"The economy is still pretty resilient, but it's a bit cautious out there," said Sarah House, an economist at Wells Fargo Securities LLC in Charlotte, North Carolina. "Some of these first October numbers put us off to a weaker start" in the current quarter.
After gains in consumer and business spending propelled the strongest six months of growth in more than a decade, the figures indicate the economy will probably expand at a more sustainable rate heading into 2015. More employment and the lowest gasoline prices in four years mean households will have little reason to hold back as the holiday-shopping season gets under way.
Any weakness is likely to be short-lived as "consumers are on the best footing" of the entire expansion, said Jacob Oubina, a senior U.S. economist at RBC Capital Markets LLC in New York, which is the best forecaster of personal spending in the last two years, according to data compiled by Bloomberg.
Homes Sales
New homes sold at a 458,000 annualized pace in October after a 455,000 rate that was slower than initially reported by the Commerce Department. The Bloomberg survey median called for a 471,000 pace.
Today's data deluge, with some reports coming a day earlier than usual because of the Thanksgiving holiday, also showed an unexpected jump in jobless claims, weaker manufacturing growth in the Chicago area and a decrease in contract signings for purchases of previously owned homes.
Stocks rose, with benchmark indexes closing at all-time highs, amid optimism the economy is showing enough strength to weather a slowdown overseas. The Standard & Poor's 500 Index rose 0.3 percent to 2,072.83 at the close in New York.
Economists at Barclays Plc lowered their tracking estimate for fourth-quarter growth to 2.3 percent from a previous projection of 2.6 percent. Morgan Stanley economists took their tracking forecast to 1.5 percent from 1.7 percent. Capital Economics and Macroeconomic Advisers also reduced estimates.
Prior Quarters
The economy grew at a 3.9 percent pace in the third quarter, stronger than initially estimated, after 4.6 percent in the previous three months, data from the Commerce Department showed yesterday. It marked the biggest back-to-back gains since late 2003.
The pace has been helped by stronger corporate investment. Industrial equipment spending in the second and third quarters showed the largest two-quarter annualized gain since the second half of 2011, and the second-largest since the end of 1964.
"Non-residential construction demand has steadily improved throughout 2014 but remains well below its peak," Gregg J. Mollins, chief operating officer of Los Angeles-based Reliance Steel & Aluminum Co., said at a Nov. 19 conference. "We are optimistic that we will see further improvement in 2015."
Today's report on durable goods orders showed the recent increases may be hard to match in coming months. Bookings for such equipment were forecast to rise 1 percent, according to the Bloomberg survey median. Orders for all durable goods -- items meant to last at least three years -- rose 0.4 percent on a jump for military aircraft.
Demand declined for metals, machines, computers and electrical equipment, while orders for motor vehicles rebounded.
'More Caution'
"There might be a little more caution with investment if a lot of your growth is coming from abroad," said Gennadiy Goldberg, U.S. strategist at TD Securities USA LLC in New York. Still, "we're not concerned about durable goods orders completely falling off a cliff, but some slowdown here is to be expected."
Business activity in the Chicago area expanded this month at a slower pace than forecast. The Institute for Supply Management-Chicago Inc.'s business barometer decreased to 60.8 from 66.2 in October, which was the strongest level in a year.
American consumers, whose spending accounts for almost 70 percent of the economy, were just as reserved in October. The gain last month followed little change in September, according to the Commerce Department. The Bloomberg survey median called for a 0.3 percent increase in personal spending.
Personal Income
Incomes also rose 0.2 percent in October, less than forecast. Without faster wage growth, concern about taking on too much debt could potentially put a lid on how fast consumer spending can accelerate in the final three months of the year. Continued progress in the labor market and relief at the gas pump may help some households find the means to spend as retailers prepare for the holiday shopping season.
For Kirkland's Inc., which sells home accessories and gifts, the six-week period from Thanksgiving weekend through the first two weeks of January will determine the success of the fourth quarter, according to Chief Executive Officer Robert Alderson. The Nashville, Tennessee-based company reported sales and earnings that beat analysts' forecasts and boosted the bottom end of its full-year profit range estimate.
"The macro environment heading into the heart of the shopping season feels much like last year -- an improving economy, but still a somewhat reluctant shopper," Chief Operating Officer Michael Madden said on a Nov. 20 conference call. "On balance, with stronger economic growth, lower energy prices and a slightly better job market, this holiday season has more going in its favor."
Jobless Claims
Another report today showed the pace of improvement in the labor market may be starting to cool. Jobless claims increased by 21,000 to 313,000 in the week ended Nov. 22, the highest since early September, from 292,000 in the prior period, the Labor Department reported today in Washington. It would take several weeks of sustained elevated readings to confirm the labor market has taken a step back.
Claims are signaling "some moderation in the pace of employment growth, but we've had some of the strongest growth in hiring in a decade, so we're due for some moderation," said Wells Fargo's House. "We're still going to see numbers strong enough to continue to put downward pressure on the unemployment rate."
Before it's here, it's on the Bloomberg Terminal.
LEARN MORE