Obama Comes Out Swinging
Post-midterms Obama is ready to fight Congress on his legacy issues, including clean air.
By and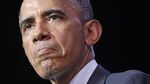 President Barack Obama sure seems itching for a fight—or a few—with the incoming Republican Congress.
On Wednesday, Obama recommitted to costly smog standards that he shelved before his re-election, setting up a clash with a Senate majority that was, in part, installed with the help of energy billionaires whose businesses would be adversely affected by the rules. Last week, he granted a reprieve to millions of undocumented immigrants, and, since Nov. 4, he seems more eager than ever to put the "Obama" back in Obamacare.  With no more political calculations to make, Obama is digging in on the domestic issues that will form the pillars of his legacy.
"Most presidents do this," said Princeton University historian Julian Zelizer of the use of executive power to cement legacies after re-election. "Clinton did this with environmental issues. Jimmy Carter did it on environmental issues. President Bush did it on national security." 
Obama faces two downsides with executive actions: The next president can undo them, and sidestepping the legislative process "kind of loads each issue politically by making it look like it's done without democratic consent," Zelizer said. "But from the perspective of presidents these days, there is no alternative."
Wednesday's smog announcement, on a holiday eve in an almost empty Washington, immediately roused the vacationing Republican opposition. House Speaker John Boehner fired off a statement decrying the "massive new regulation—the most expensive rule ever proposed," and vowed to fight it. "Americans have made clear to the president his priorities are not theirs, and this is precisely the kind of misguided policy they rejected," Boehner said, referring to the midterm elections in which Republicans expanded their House majority and took control of the Senate.
The "new American Congress," Boehner said, renaming the institution, will "take action" against the "regulatory onslaught." 
House Majority Leader Kevin McCarthy, a California Republican, wrote that it is "troubling to see the cynicism of electoral convenience placed ahead of the well-being of our communities."
Progressive activists, who have long grumbled about wanting to see more of the hope and change Obama promised back in 2008, welcomed his recharged partisan moxie.
"I'm thrilled. I hope that he continues to keep in touch with his inner Harry Truman," said Jim Dean, chairman of brother Howard Dean's Democracy for America group. "We're ready for that kind of leadership. There are times when we wish he had been bolder." 
Obama delayed the Environmental Protection Agency proposal to imposer tougher limits on smog-producing ozone in 2011, citing the weak economy. Lost on no one was the fact that he faced a re-election battle. Following this year's midterms, the administration had only a few weeks to act before a court-mandated deadline of Dec. 1. (Environmental groups sued over failure to comply with the Clean Air Act during the Bush era, and that litigation has lived on.)
The EPA's proposal scales back the amount of ozone emissions allowed from mostly urban areas during an eight-hour period. To meet the limits, municipalities can require fixes at factories, office buildings, and other facilities or increase such green spaces as bike lanes to get people out of their cars. The EPA estimates that power plants, chemical manufacturers and refineries would need to spend at least $4.7 billion more in coming decades—a cost business leaders say they can't afford. 
Congress has some options when it convenes in January with a Republican majority in both chambers. It could pass a Congressional Review Act to invalidate the regulation (which Obama could veto) or hitch riders to budget bills to starve the EPA of the funding needed to implement and enforce the new limits. Senator John Thune, a South Dakota Republican, has already committed to fighting on several fronts. A bill he introduced in September would block the EPA from revising the ozone standard until 85 percent of the counties and urban areas that aren't meeting the current, looser standard come into compliance. 
Congress typically waits until a regulatory proposal is final before looking to a CRA, and the new smog standards won't be final for another year. Then again, recent Congresses have proven anything but typical, and the new one has an incentive to act swiftly: donors. Groups opposing the measure include Americans for Prosperity, co-founded by billionaire energy executives Charles and David Koch, which just spent more than $100 million backing Republican candidates in the midterm elections. 
"We're going to encourage the Republican Congress to do as much as they can from a legislative side," said Tim Phillips, president of Americans for Prosperity. "We'll ask them to get some sanity here and help make it so that the president's ideological agenda takes a back seat to the basic economic needs of the middle class." 
John Coequyt, director of the Sierra Club's international climate programs, said Obama is used to this sort of pushback on climate. "He has done a lot and cares deeply," Coequyt said, "and he's doing it in the face of House Republican onslaught on the environment, where they've taken very extreme anti-environment votes."
Wendy Schiller, a Brown University political scientist, said the environment is the area where Obama has most used his regulatory authority. "One of the reasons I think the president really feels comfortable extending his reach in the environmental area is that the courts have really upheld these regs," she said. "If you're the president and you want to look relevant and powerful, the smartest thing to do is use your regulatory authority in areas in which the courts have upheld federal power."
The president's burst of muscle-flexing may suggest that he's taking the unsolicited advice of former President Bill Clinton, who told Politico's Mike Allen at an event in Little Rock, Ark., that Obama should be having more "fun" in his final few years in office. "I never bought this whole lame-duck deal."