Naftogaz Sees Radical Increase in Gas Price for Ukrainian Homes
Ladka Bauerova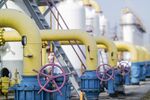 Ukrainians should brace themselves for a "radical increase" in the price of gas because that's supported by all the parties negotiating a government coalition treaty, state gas company NAK Naftogaz Ukrainy said.
While the price of natural gas used by households for cooking and heating water rose by 50 percent on May 1, the decline in the hryvnia means they have fallen in dollar terms and remain "ridiculously low," said Yuriy Vitrenko, director of international business at Naftogaz.
"Ukraine spends six times more on gas subsidies than on its military budget," Vitrenko said in an interview in Bratislava, Slovakia. "We're a country at war. It's really insane."
Subsidized gas is supplied to households for less than a 10th of the market price, according to Vitrenko. He said the planned increase is supported by President Petro Poroshenko's political bloc and four other pro-European Union parties, which signed a coalition agreement following Oct. 26 elections. Ukraine must reform its energy sector under a $17 billion International Monetary Fund program to help the country avoid default.
Naftogaz Chief Executive Officer Andriy Kobolyev said in September that he wants to more than triple the 30 hryvnia ($2) a month that a third of Ukraine's households pay for unlimited gas use before winter arrives.
Encouraging Production
A large price increase could help the country cut its gas consumption by as much as 30 percent and become more energy efficient, Vitrenko said. Opening up the gas market and subsequent price adjustments could also encourage local producers to boost output by as much as 50 percent within three years. That would make the country almost independent of imports from Russia, which meets more than half its current demand.
"That 50 percent increase could be just on existing wells," Vitrenko said. "I'm not even talking about shale or other fancy stuff, just plain old conventional production."
The executive estimates that Naftogaz, which produces about 15 billion cubic meters of gas a year, needs an investment of as much as 5 billion euros ($6.25 billion) to modernize its infrastructure.
The Ukrainian government, eager to strengthen ties with the EU, has accused President Vladimir Putin of using gas as a political tool to keep the country in Russia's orbit.
Ukraine is going to pull through the winter without major gas shortages after Russia agreed to restore supply in exchange for a partial debt repayment of $3.1 billion before the end of the year. Ukraine pays OAO Gazprom $378 per thousand cubic meters, about $25 more than the cost of gas from the EU, Vitrenko said.
Because Ukraine wasn't able to buy gas from the EU and store it during the summer months when gas is cheaper, it lost about $800 million in potential savings, he said. Poland, Slovakia and Hungary made their pipelines available for the so-called reverse flow only at the end of the summer, and the amount Ukraine can receive isn't enough to cover its needs.
Before it's here, it's on the Bloomberg Terminal.
LEARN MORE