Mr. Yen Sees Drop He Forecast Nearing End on Economy
Mariko Ishikawa and Shigeki Nozawa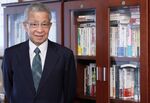 The 14 percent plunge in Japan's currency since mid-year has about run its course, according to the former Ministry of Finance official known as "Mr. Yen."
Eisuke Sakakibara, who got his nickname in the 1990s for his influence over the exchange rate, said the yen is unlikely to match its low of 124.14 per dollar on the eve of the financial crisis in June 2007. It touched a seven-year low of almost 119 last week after more than 1 1/2 years of unprecedented monetary easing by the Bank of Japan.
Sakakibara joins a growing chorus of voices that includes Finance Minister Taro Aso who figure that may be weak enough. In an interview in Tokyo, the 73-year-old said the yen will soon start to benefit as the increase in Japan's sales tax seven months ago loosens its choking effect on the world's third-largest economy.
"The yen doesn't appear to be in an alarming situation where it will continue to depreciate out of control," said Sakakibara, now a professor at Tokyo's Aoyama Gakuin University. "The Japanese economy is not that weak, even though the negative impact of the sales-tax increase in April has been somewhat prolonged."
Accurate Forecast
Sakakibara, who in September correctly predicted the yen's drop to 110, retired from his role as Japan's Vice Minister for Finance 15 years ago. He joined the ministry in 1965 and has also worked at the International Monetary Fund as well as Harvard, Keio and Waseda universities.
He came to global prominence in August 1995 when he helped engineer a coordinated intervention by the central banks of Japan, the U.S., Germany and Switzerland to weaken the yen. The currency had climbed to a then-record 79.75 per dollar that June.
Three years later he was less successful, failing to halt a slide beyond 140 in mid-1998. The yen extended its losses, dropping to an eight-year low of 147.66 that August, even after the U.S. and Japan intervened to buy it.
Now, Japan's currency is falling again. It has depreciated at least 16 percent against all 16 of its most-traded peers in the past two years as Prime Minister Shinzo Abe implemented his so-called three arrows of economic policy -- monetary easing, fiscal spending and structural reform -- to revive growth.
Fourth Recession
The yen dropped to 118.98 per dollar on Nov. 20 after a report showing the economy slipped into its fourth recession since 2008 fueled speculation the Bank of Japan would extend its stimulus program. The currency's slide has been amplified by the U.S. Federal Reserve's plans to raise interest rates as soon as next year, which are supporting the dollar. It traded at 117.61 as of 12:34 p.m. in New York.
The yen is far from levels that could spark "Japan selling," and the authorities won't intervene to halt its slide, Sakakibara said Nov. 21. Japan hasn't bought or sold currency to sway the yen's price since a record intervention in 2011, and the BOJ has said its stimulus program doesn't target the exchange rate.
"The current yen weakness isn't solely driven by domestic factors," Sakakibara said. "It's inappropriate to conduct yen-buying, dollar-selling operations when monetary policies in the two countries are moving in opposite directions. The U.S. would not agree and interventions would be ineffective."
Barclays Plc also says the yen's losses are almost at an end. The U.K. bank forecasts a decline to 120 per dollar by the first quarter of 2015 before rebounding to 117 by year-end. Median estimates of more than 60 strategists surveyed by Bloomberg put the exchange rate at 117 by March and 121 on Dec. 31, 2015.
'Cheap' Yen
"The currency at the moment is substantially cheap," Jose Wynne, the head of foreign-exchange research at Barclays in New York, said yesterday by phone. "Our judgment is that this goes to 120 and stays there for a few months" before rallying as the economy improves, he said.
Finance Minister Aso said Nov. 21 the yen's slide has been "too fast," while Bank of Japan Governor Haruhiko Kuroda signaled yesterday the nation would achieve its inflation target. A rally would please the growing number of companies which have complained that the higher cost of buying foreign materials from overseas because of the yen's weakness outweighs any advantage in terms of export competitiveness.
"Demerits of yen weakness on the economy start to outweigh merits beyond 115 per dollar," Sakakibara said. "Households are hurt by inflation through higher import prices."
Election Uncertainty
The yen will also be influenced by the Dec. 14 snap election called by Abe, said Sakakibara. The premier dissolved parliament last week to seek a fresh mandate for his policies after deciding to postpone a planned second increase to the sales tax with the economy slipping back into recession.
While Abe's Liberal Democratic Party remains the favorite to win, its support has dwindled, which may threaten the monetary easing that has fueled the yen's losses. Backing for Abe's cabinet has fallen 3 percentage points to 47 percent the past two weeks, public broadcaster NHK reported yesterday, citing a Nov. 22-24 phone survey of 1,316 people.
"The LDP will lose more seats than most forecast, causing volatility," Sakakibara said. "If the LDP loses 100 seats, Abe would have to step down to take responsibility for the failure of Abenomics and his misjudgment of dissolving the parliament. The outcome of the election will probably be a big surprise for many."
(An earlier version corrected the date of the yen's seven-year low.)
Before it's here, it's on the Bloomberg Terminal.
LEARN MORE