Mike Huckabee's Fight Against Online Gambling (and Libertarians)
The possible 2016 presidential candidate talks up Sheldon Adelson's biggest (non-Israel) issue, live on Fox News.
By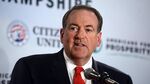 Conversations between failed presidential candidates and senators-turned-lobbyists do not, typically, make for thrilling television. I won't pretend that Mike Huckabee's weekend interview with Blanche Lincoln, who rebounded from her 2010 landslide defeat to work with the Coalition to Stop Internet Gambling, was the exception. Huckabee's discussion with Lincoln was totally without hostility. He agreed with the premise.