Gym Clothes That Don't Stink, Thanks to Shrimp Shells
by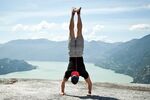 Sweat is one of the unavoidable by-products of a rigorous workout. But some of the best performance gear designed for breathability is made from synthetic materials that hold onto acrid smells even after a wash. Strongbody, a startup in Vancouver, says its new line of active wear solves the exercise-stench equation—courtesy of a substance derived from shrimp and crab shells. The company is trying to expand its business by selling two new items on Kickstarter.

Strongbody is one of several companies trying to balance our cultural aversion to body odor with our human need to sweat. Both Lululemon Athletica and Patagonia, for instance, treat some of their garments with silver chloride, which halts the growth of odor-causing bacteria. Strongbody's textiles are coated in chitosan, a fiber chemically processed from shells of crustaceans that's been used as everything from a dietary supplement to a blood-clotting agent in bandages. It also happens to be naturally antimicrobial.

The sportswear company didn't set out to make high-tech exercise clothing. Originally, its founders wanted to create stylish apparel for gym buffs, rather than for yoga enthusiasts, bikers, and runners. "We didn't see anything that really resonated with us," says Meghan Conyers, a former personal trainer, who in late 2011 teamed up with a gym manager, Quincy Samycia, to begin researching the kinds of stretchy materials that flatter well-toned physiques. After settling on a polyester-blend textile embedded with chitosan—also used in some of Wigwam's wool socks—the pair began selling their collection for men and women online and are now offering a shirt ($52 CAD) and shorts ($74 CAD) for men on Kickstarter.
"Unless you are told that our fabrics have this technology, you would never be able to tell by looking at them or touching them," Conyers, Strongbody's chief executive, says. (Those with shellfish allergies have no need to worry: According to a 2005 study published in Military Medicine, subjects allergic to crustaceans had no reaction to chitosan powder.) The pieces range in price from $68 for a tank top to $148 for a sleeveless hoodie and are soft, wrinkle-free, pill-resistant, and aesthetically distinctive, with signature mesh strips offering a hint of skin.
Conyers says she and Samycia still wear their two-year-old samples, which remain odor free. Add some coffee-ground socks, and your whiff-proof outfit is complete.

Before it's here, it's on the Bloomberg Terminal.
LEARN MORE