Roy Choi Wants to Reinvent Fast Food
The food truck pioneer aims to start a healthy burger chain
By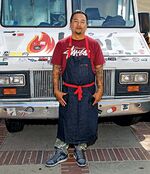 New York restaurateur Daniel Holzman knows firsthand the drawing power of Roy Choi, the Los Angeles-based chef-turned-gourmet-food-truck operator. Holzman remembers standing with Choi in a Los Angeles parking lot several years ago "in some s-‍-‍-‍-‍- neighborhood on Skid Row, in a place I normally wouldn't have stopped for gas because I'd be nervous. He'd say 'watch this,' and send out a tweet, and 300 to 400 people would show up like that" to queue up at his truck, says Holzman, co-owner of The Meatball Shop restaurants. "No other chef or hospitality business used social media the way he did," says Holzman, who first worked with Choi in the kitchen of New York's seafood mecca Le Bernardin in the late 1990s.
Now Choi, whose Kogi BBQ operates four trucks and has 130,000 followers on Twitter, is taking on a harder task: reinventing the burger. Choi has joined with San Francisco chef Daniel Patterson, whose restaurant Coi earned him the 2014 James Beard Award for Best Chef in the West, to start a fast-food chain called Loco'l. Its menu centerpiece will be an inexpensive hamburger that is healthier than anything you'd find at McDonald's, tastier than those at In-N-Out, and served faster than at a gourmet burger restaurant.
"You don't have to be forced to eat food that's bad for you," says Choi, who now also operates two restaurants and has his own online show at CNN.com. "We are focused on the America that is eating at corporate-driven fast-food restaurants that use unethical practices to raise their livestock and animals, treat their employees poorly, and cut all products with chemicals and sugars and salts to keep people addicted."
To create a healthier burger, Choi and Patterson will mix the beef with tofu, lowering the fat level. It will come on a bun from master breadmaker Chad Robertson of San Francisco's Tartine and be layered with melted cheese and a selection of condiments such as charred pickled scallion relish and something they call "awesome sauce."
The chefs plan to start with two locations—one in San Francisco, another in Los Angeles—with a goal of opening hundreds more. They hope to raise money through Kickstarter and Patterson's "deep relationships with the tech community," Choi says. Natasha Phan, Kogi's director of business development, declined to elaborate.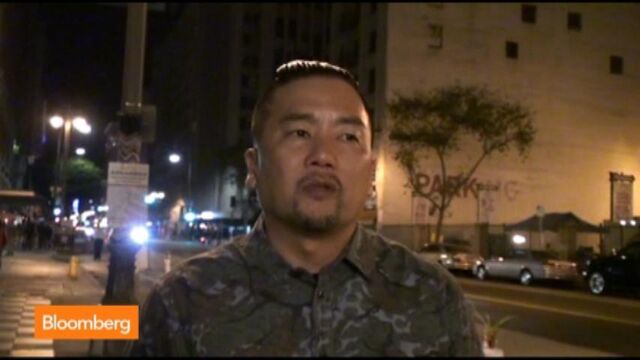 Choi enters the fast-food industry at a time when many of the largest chains are flagging because some customers crave fresher alternatives. "McDonald's has tried very hard to improve its positioning with respect to healthy items," says Bob Goldin, executive vice president of food consultant Technomic. "Clearly they are not setting the world on fire, nor is Burger King or Carl's or Sonic."
Still, building a menu around a tofu-laden burger could be tough. The soy-based protein may alienate a lot of potential customers, says food industry consultant Malcolm Knapp, especially in the poorer markets Choi is eager to serve. While most fast-casual restaurants such as Chipotle Mexican Grill thrive in more affluent neighborhoods, Choi aims to open his stores in grittier East Oakland, South Central Los Angeles, and the South Side of Chicago. Choi knows better than to use the tofu to sell his burger. "The burger has to eat like any fast-food burger—a Quarter Pounder, a Whopper," he says.
There are business challenges, too. "It's very expensive to go from an independent operator to a chain," says Andrew Wiederhorn, chief executive officer of Fatburger. "You need all these different levels of management and overhead." His Fog Cutter Capital Group bought the Fatburger brand in 2003 when it had 40 locations in California and Nevada. Fatburger has since expanded to 200 stores across a dozen states and 32 countries. To achieve the critical mass needed to cover Loco'l's expansion costs, he suggests Choi open several restaurants in a single market before expanding to new territories.
To build Loco'l's brand, Choi says he'll rely on the same social media and marketing savvy that transformed Kogi and its Korean-Mexican fusion specialties such as galbi tacos and kimchi quesadillas into a phenomenon. But restaurant success often hinges on something simpler, says consultant Knapp. "Chipotle thought their quality ingredients and all that was the key," he says. "Turns out that wasn't the key. People didn't give a s-‍-‍-. They loved Chipotle because it tasted good."
Before it's here, it's on the Bloomberg Terminal.
LEARN MORE