Do Free-Speech Rights Apply on Facebook?
David McLaughlin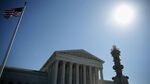 Anthony Elonis went to prison after writing Facebook messages suggesting he might kill his wife. Now his case is before the U.S. Supreme Court, which will consider for the first time how free-speech rights apply on social media.
Elonis, who cites singer Eminem as an inspiration, says his messages were rap lyrics that weren't intended as threats and deserve protection as speech. Among his posts: "I'm not gonna rest until your body is a mess." Another envisioned his wife's "head on a stick."
The court on Dec. 1 will consider overturning Elonis's conviction for threatening his wife, local school children and an FBI agent. At stake, he says, is how much freedom users of social media have to express themselves.
"It would be very chilling on communications" if the verdict against Elonis is upheld, said John Elwood, his lawyer. "It would sweep in too much protected speech, and it's just too lax a basis to go to jail."
The dispute pits free-speech defenders worried about the criminalization of online communications against advocates for crime victims who fear the court could erect barriers to prosecuting stalkers.
"This case is just about threatening speech," lawyers for the National Network to End Domestic Violence wrote in court papers. "Advances in technology give perpetrators of intimate partner violence an ever-increasing array of tools to threaten their victims."
Halloween Message
The case stems from Facebook posts Elonis made after his wife left him in 2010 with their two children and he was fired from his job at Dorney Park and Wildwater Kingdom, an amusement park in Pennsylvania.
Before Halloween, he wrote that his son's costume should be "matricide" and include his wife's "head on a stick." He later posted on the site: "There's one way to love ya but a thousand ways to kill ya/ And I'm not gonna rest until your body is a mess."
Elonis's wife obtained a restraining order, saying she had seen the Facebook posts and found them threatening. He responded by writing that she should fold up the protection order and "put it in your pocket/ Is it thick enough to stop a bullet?"
Elonis, who's now 31, wrote under the hip-hop pseudonym "Tone Dougie" -- a play on his first and middle names. He claims his posts were a form of rap lyrics inspired by musicians like Eminem, whose songs include references to violent acts against his mother and ex-wife. Elonis included disclaimers that he was writing lyrics as an "aspiring rapper" and included links to news stories about First Amendment cases.
FBI Visit
After writing that there were enough elementary schools around "to initiate the most heinous school shooting ever imagined," two Federal Bureau of Investigation agents visited Elonis at home.
He followed up with a Facebook post: "Little Agent Lady stood so close/ Took all the strength I had not to turn the b--- - ghost/ Pull my knife, flick my wrist, and slit her throat."
Elonis argued at trial that the government had to prove that he intended to communicate a true threat. The judge instead instructed the jury that the standard is how a reasonable person would interpret the remarks. Elonis was convicted on four of five counts and sentenced to 44 months in prison.
Requiring prosecutors to prove that a defendant intended to threaten someone would create insurmountable burdens for victims and prosecutors, said Rebecca Roe, a lawyer who wrote a brief for the National Center for Victims of Crime.
'No Recourse'
That's particularly true in cases of domestic violence because threats tend to be more oblique than what Elonis wrote on Facebook, Roe said in an interview.
"You're leaving victims out there with no recourse at the same time technology is giving perpetrators all kinds of new tools," she said.
Some free-speech advocates support Elonis. Upholding his conviction would restrict expression because much of what is written online is open to multiple interpretations, according to the American Civil Liberties Union. Also, people would have the burden of anticipating potential reactions, the group says.
The Supreme Court could stop short of deciding on the free-speech issue and instead say the federal statute covering threats requires that prosecutors show intent.
Rap music is a new topic for the justices, whose tastes lean more toward opera. That lack of familiarity explains an unusual brief filed by two scholars seeking to explain the music and its conventions to the court.
Considered Dangerous
The scholars, Professors Erik Nielson of the University of Richmond and Charis Kubrin of the University of California at Irvine, said rap is particularly susceptible to misunderstanding and is often seen as dangerous. If a speaker's intent isn't considered, a juror with negative stereotypes about the genre could interpret rap lyrics as a threat of violence, they said.
Without reversal, Elonis says unfamiliar, minority viewpoints would be discriminated against. Anyone who seems different from jurors is more likely to seem threatening than people who look, speak and think like they do, he argues.
"There are all types of different speech that are different from what we might be used to and what jurors might be used to," said Elwood, his lawyer. "He meant this as a way of working through all of the stress that he was under and all the bad things that had happened."
The case is Elonis v. the United States, 13-983.