Learning the Ebola Handshake
A struggling business in Liberia provides a glimpse of the virus's economic impact
Clair MacDougall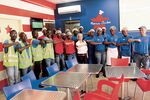 Mazen Halabi sits in front of a spreadsheet tallying costs that have risen since the Ebola outbreak hit Monrovia in July. Halabi had plans to expand his business, Monroe Chicken, the only fast-food restaurant in the Liberian capital, and open a massive cafeteria-style eating hall serving both Liberian food and fried and grilled chicken. Those plans have been put on hold.
President Ellen Johnson Sirleaf has set a goal of no new Ebola cases by Christmas, but with them continuing to be recorded, the future for businesses such as Monroe Chicken is uncertain. Many small companies and shops in the capital shut down; a Gallup and World Bank survey indicated as many as half the people with jobs, particularly in rural areas, were not at work. Foreign contractors and investors—along with their cash—have left the country. "If people are too scared to come into the country to resume their operations, there is going to be a problem," says Halabi.

Even before the Ebola crisis, Liberia, which emerged a decade ago from back-to-back civil wars, had seen its gross domestic product decline because of falling prices for iron ore and rubber, its primary exports. By the end of October, the country's growth projections for 2014 had plummeted from 5.9 percent to -0.04 percent; in the worst-case scenario the World Bank predicts Liberia's GDP could contract by 11.9 percent next year. "It's like being hit by a car, and somehow you try to get up on your feet already dazed, and another car comes and hits you again," says Daniel Boakye, a World Bank economist in Monrovia.
Halabi, one of the many Lebanese businessmen whose families have lived in Liberia for decades and dominate the economy, has a contingency plan. He will set up smaller branches of Monroe Chicken next year in locations he can easily shut down if sales don't pick up.
Monroe Chicken is an anomaly in Liberia: It has a structured, modern work environment, with clear processes and procedures and a workforce that receives benefits. A strict culture of cleanliness was already in place before the epidemic, which helped the business navigate the crisis. At his desk, Halabi monitors 16 screens, watching his employees cut chicken, work the deep fryers, and prepare sandwiches. He can also observe human interactions at the stainless-steel work counters and the front of the store.

When the virus began to spread in Monrovia, more precautions were put in place. A bucket filled with a mixture of chlorine and water was placed outside the restaurant for customers and staff to wash their hands, the temperatures of workers were taken daily, the stainless-steel work benches were spaced to reduce contact among employees, and tables and chairs were wiped down with a mixture of chlorine and water after each customer left. Halabi inspected the water source at the bakery that produces the bread for his sandwiches and made sure its workers used gloves when they handled the bread or dough. Monroe Chicken was already using a dash of chlorine to wash its vegetables.
Halabi now monitors the lives of his 40 staffers more closely. If employees fall ill, their cases are investigated. A worker who attended the funeral of a relative who died of Ebola was given 21 days off, the incubation period for the disease. He returned healthy.

While other businesses have closed, Halabi hasn't laid off employees because he doesn't want to arouse suspicion with customers. He also doesn't want "morale to be low," he says. The workers have been briefed multiple times on the signs, symptoms, and known modes of Ebola transmission. So far no one has been infected. Halabi won't allow his employees to eat street food, offering them free meals instead. "You are not allowed to eat from the side of the road. … If I catch anyone eating anything from anyone—termination immediately," he says.
During the early days of the crisis with its accompanying curfew, the number of customers plummeted as did Halabi's profit. Liberia's high fuel prices make it expensive to keep the lights on and the air conditioners running. The cost of lettuce and tomatoes, already high because Liberia imports most of its food, has risen sharply because of border closures meant to keep the virus from spreading. "It cost 40¢ [U.S.] for a slice of tomato!" Halabi says. Each $6 burger contains at least three slices.
Agnes Doe, 24, a single mother of a 6-year-old girl, is a sales manager at Monroe Chicken and counts herself lucky. She earns $500 a month in a country where the average income is $410 a year. "Monrovia is still upside down," she says. "The Ebola issue has caused a lot of delays." She moves through the city cautiously, eats mainly at work, and sanitizes her hands all the time. She has sent her daughter to the southeast of Liberia and won't bring her back until the city is safe.

At work, Doe greets workers with the "Ebola handshake"—an elbow bump. She cannot high-five or fist bump her friends at work and carefully maneuvers around them at the counter and in the kitchen. She walks to work, avoids taxis when she can, and doesn't venture far outside her neighborhood. Doe and her colleagues used to plunge into the sweaty dance floors of Monrovia's nightclubs after work on weekends, but those are now closed. "It's really boring, but we have to manage," she says.