Deere 2015 Outlook Misses Estimates as Tractor Sales Fall
Shruti Date Singh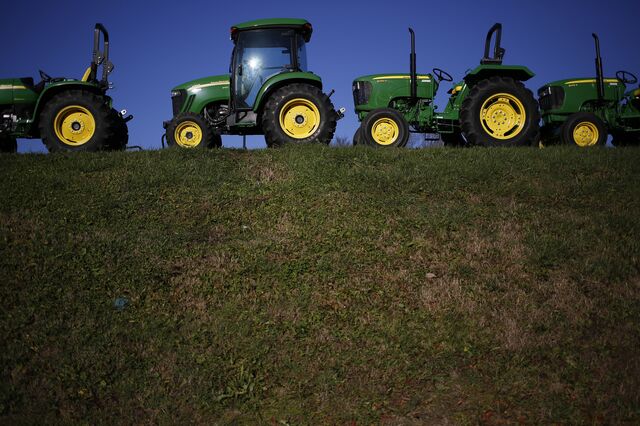 Deere & Co., the world's largest farm-equipment maker, forecast lower-than-expected earnings for fiscal 2015 as a slump in crop prices means farmers are buying fewer of the company's most profitable machines.
Net income will be about $1.9 billion in the year through October 2015, Moline, Illinois-based Deere said today in a statement. That missed the $2.19 billion average of 20 analysts' estimates compiled by Bloomberg. The shares fell as much as 3.9 percent.
"The slowdown has been most pronounced in the sale of large farm machinery," Chairman and Chief Executive Officer Samuel R. Allen said in the statement.
Until recently, North American farmers were buying bigger and more sophisticated machines, buoyed by surging corn and soybean prices. Deere's 8R series of tractors, for example, can cost more than $300,000 each and come with more than 300 horsepower, air-conditioned cabs and satellite-guided steering. Corn has now dropped more than 50 percent and soybeans more than 40 percent from records set in 2012.
The large farm-machinery slump "is an indicator of a sharp recession in the farm economy that could last several years after a bubble cycle," Larry De Maria, a New York-based analyst for William Blair & Co. who recommends selling the shares, said in an interview today.
Combine Slump
U.S. farm profit will fall an estimated 14 percent this year from last year's record, the Department of Agriculture said in August. That's not just affecting tractors: Industrywide combine sales in the U.S. through October tumbled 21 percent, according to the Association of Equipment Manufacturers. Agco Corp., the third-largest agricultural-equipment maker, cut its full-year profit forecast in October.
Deere has already cut production and laid off hundreds of workers this year. It said today that its equipment sales will fall about 15 percent in fiscal 2015.
It's not all gloom for Deere. Its construction segment is doing better as the U.S. economy improves. Sales of smaller equipment to livestock farmers, who are benefiting from lower feed costs and higher meat prices, are also helping it offset some of the decline in large farm-machinery sales, the company said.
Net income for Deere's fiscal fourth quarter through Oct. 31 was higher than expected. Profit fell to $649.2 million, or $1.83 a share, from $806.8 million, or $2.11, a year earlier, Deere said. The average analyst estimate was $1.57 a share. Sales dropped to $8.97 billion from $9.45 billion.
Deere fell 0.9 percent to $86.99 at the close in New York. CNH Industrial NV, a Deere competitor, dropped 4.6 percent, while Agco declined 2.4 percent.
Before it's here, it's on the Bloomberg Terminal.
LEARN MORE