Stocks Are Up. Beef and Chicken Stocks, That Is
Bone broth has replaced green juice as the next curative beverage
By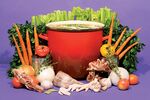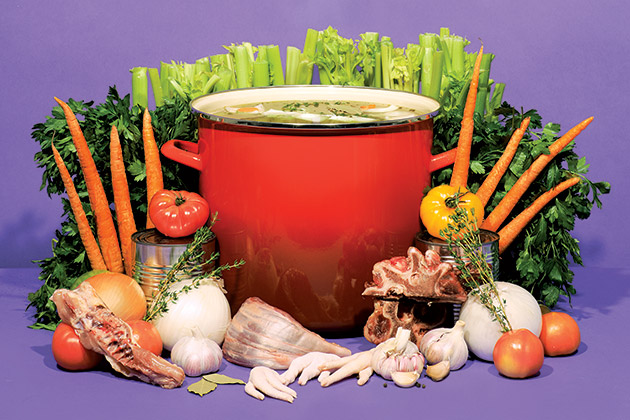 Marco Canora has been drinking his mom's broth since he was a kid in upstate New York. "When I was sick, I'd sip a bowl with Parmesan cheese," the chef says. "The flavor, the saltiness, and the richness feel so calming." Now he's re-creating that experience at Brodo, a tiny takeout window next to Hearth, Canora's acclaimed restaurant in Manhattan's East Village. Broth has also become a calling card for British cookbook authors such as Sally Morrell (Nourishing Broth, released in September) and the Helmsley sisters (who blog for British Vogue). The Los Angeles Lakers' nutritionist has made it a key part of his team's eating plan, and Paleo dieters are also obsessed.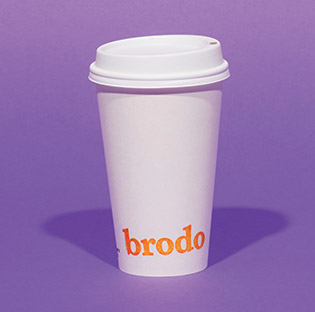 Most days, Canora mans the counter himself, hawking 16-ounce paper cups of broth, which range from $6.75 to $9, in three varieties—with simmered beef bones, chicken bones, or a blend of both with turkey that tastes like curry. For an additional 75¢, customers can get add-ons such as turmeric and beets. Since opening on Nov. 3, Canora is averaging 250 orders a day, most from those interested in the broth's restorative powers—the gelatin from the bones aids digestion, collagen creates healthy hair, and amino acids improve the immune system. He says drinking his own broth got him into the best shape of his life. "If I had more kiosks, no doubt every one would be booming," Canora says, though he has no plans yet to expand or diversify into juice in the warmer months. "Juice is mostly sugar," he complains. "Maybe I'll just make broth ice cubes."
Canora's DIY Recipe
Adapted from A Good Food Day, out in December
4 lbs. chicken bones (any combination of backs, necks, and feet)
2 lbs. beef bones (shin or neck)
2 small onions, peeled and quartered
4 small carrots, cut into 1-inch pieces
4 stalks celery, cut into 1-inch pieces
1/2 bunch flat-leaf parsley
1 bunch fresh thyme
12 oz. can tomatoes, drained
1 head garlic, halved crosswise
1 tsp. black peppercorns
2 bay leaves
Combine bones in a deep 8-quart pot. Rinse with cold water, scrubbing with your hands. Drain and pack bones in pot. Cover with 4 inches of cold water and cook over medium-high heat for about 45 minutes until liquid boils. Reduce heat to medium and move pot so burner is off to one side. (This helps broth to circulate.) Simmer until broth looks clear, about 1 hour, occasionally using a ladle to skim off surface fats and foamy impurities. When broth looks clear, add remaining ingredients and simmer for an additional 2  hours. Use a spider skimmer to remove and discard bits of meat. Put a fine-mesh strainer over another large pot and pour broth through it; discard solids. Drink immediately, or let cool before storing. Makes 2 1/2 quarts.
Before it's here, it's on the Bloomberg Terminal.
LEARN MORE