Russia's Small-Enough-to-Fail Starting to Default
Ksenia Galouchko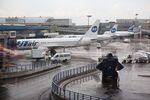 International sanctions against Russia are starting to push some of the country's smaller companies into default.
The failure by a UTair Aviation JSC unit to redeem bonds on Nov. 20 -- the second Russian default in as many weeks -- won't be the last as companies dependent on domestic financing are squeezed by climbing interest rates and an economy on the brink of recession, according to Otkritie Asset Management and Kapital Asset Management. There may be as many as 10 corporate defaults by March 31, UralSib Capital analyst Nadezhda Bozhenko said.
Lacking strategic importance because of their size, the finances of some of Russia's smaller speculative-grade companies are suffering as the nation's deepening international isolation drives borrowing costs to the highest level in more than four years. UTair, which has 14.5 billion rubles ($315 million) of securities, said yesterday it was suspending all bond payments pending a restructuring of its debt. Its June 2016 bonds dropped to 66 kopeks on the ruble today, a record low.
"This is natural selection," Dmitry Kosmodemiyanskiy, a money manager at Otkritie, wrote in an e-mail on Nov. 24. "The weakest links are snapping. UTair is 100 percent not the last company to default on bonds."
Vulnerable Companies
Penalties by the U.S. and the European Union, which accuse President Vladimir Putin of destabilizing neighboring Ukraine, are making it harder for Russian companies to refinance their debt. Corporate-bond sales dropped 65 percent this year from the same period in 2013, according to data compiled by Bloomberg. Russia faces a 70 percent chance of recession in the next 12 months, a survey of economists published Oct. 30. showed.
While Russia's biggest state-owned companies, including OAO Rosneft, are lining up for government aid as they face debt redemptions, smaller companies are left on their own.
When UTair-Finans missed a payment of 2.68 billion rubles to its creditors, the pension fund of OAO Surgutneftegas which controls UTair, made no announcement of a last-minute bailout. OAO RZhD-Razvitie Vokzalov, a Russian Railways affiliate, also failed to redeem its bonds this month.
Signs of stress are already widening. Interest rates on loans for over one year to non-financial companies jumped to a 21-month high. Russian corporate debt handed investors a loss of 3.3 percent in dollar terms in November, the worst since July, according to data compiled by Bloomberg.
'High-Risk Borrowers'
"The likelihood of other defaults is rising," Dmitry Postolenko, a money manager at Kapital Asset Management in Moscow, which oversees $3 billion in assets, said by e-mail on Nov. 24. "Because of the economic slowdown, the companies' profits decline and it becomes hard to meet debt promises."
UTair's finances deteriorated this year because the economic slowdown lowered demand for scheduled and charter flights, while the need to fly around Ukraine's airspace increased costs, UralSib's Bozhenko said.
For instance, Russian tourist flow to Thailand slumped 23 percent in October, data from the Asian country showed.
"Since loan rates have risen significantly recently and banks are setting limits on high-risk borrowers," Moscow-based Bozhenko wrote in an e-mail. While "UTair's debt default will definitely not be the last," non-payment on loans won't be as "massive" as in 2008-2009, she said.
The default "won't impact the company's operations if we achieve timely and constructive agreements between creditors and the company," Andrey Martirosov, general director of UTair, said. The airline has hired ZAO Raiffeisenbank as a consultant in the debt restructuring. Alexey Artemnenko, a spokesman for Surgutneftegas, declined to comment when reached on phone.
Critical Levels
While more companies may face a funding crunch, "there aren't too many completely depressed borrowers in the market," according to Alexey Korolenko, who helps oversee 1 billion rubles of assets at UralSib Asset Management in Moscow.
Analysts are watching the debt levels and interest costs of lower-rated companies to gauge which ones are likely to run into a cash crunch. A net-debt level exceeding three times the earnings before interest, taxes, depreciation and amortization should set the warning bells ringing, Otkritie's Kosmodemiyanskiy and BCS Financial Group's analyst Artem Usmanov said. Thirty-two publicly traded Russian companies have leverage crossing that threshold, according to data compiled by Bloomberg.
UTair had about 74 billion rubles of debt as of Sept. 30, out of which 46.5 billion rubles were in short-term debt, according to the company's website.
The yield on the ruble bonds of the so-called tier-3 companies in Russia has increased 3.2 percentage points to 14.01 percent this year, according to Uralsib data. The ruble fell for a second day, retreating 1.7 percent to 47.0610 per dollar as of 6:31 p.m. in Moscow.
"There's a risk that it's much harder for corporates to refinance under current conditions," Yulia Safarbakova, an analyst at BCS Financial Group in Moscow, said by phone. "Rates have been rising, banks have been stricter in their refinancing requirements, the markets are shut."
Before it's here, it's on the Bloomberg Terminal.
LEARN MORE