Spending by Households, Companies Propels U.S.: Economy
Victoria Stilwell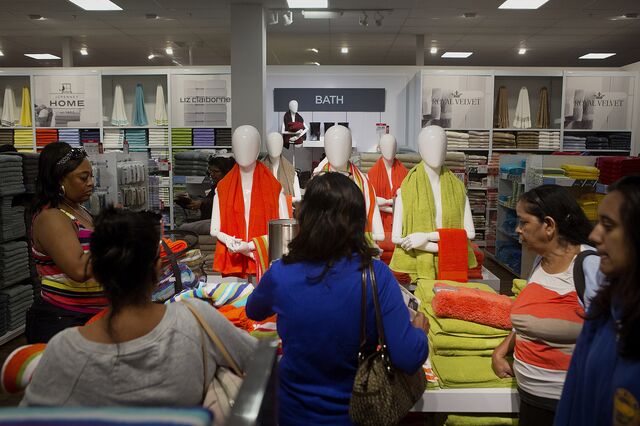 The world's largest economy grew faster in the third quarter than first estimated, capping its strongest six months in a decade, as consumers went shopping and companies boosted spending.
Gross domestic product rose at a 3.9 percent annualized rate, exceeding all forecasts of economists surveyed by Bloomberg and up from an initial estimate of 3.5 percent, revised data from the Commerce Department showed today in Washington. Other reports showed consumer confidence weakened and home prices rose at a slower pace.
More jobs and cheaper gasoline are giving households the means to boost spending even further going into the all-important holiday shopping season, benefiting retailers such as Wal-Mart Stores Inc. Businesses are investing in new equipment to meet that demand, even as markets cool overseas.
"The data today really bode well for 2015," said Chris Rupkey, chief financial economist at Bank of Tokyo-Mitsubishi UFJ Ltd. in New York, who projected consumer spending would be revised up. "Businesses have a pretty good reading on consumer demand for their goods and services. They would not be ordering additional equipment if they did not think the consumer was going to be there down the road for them."
Consumer confidence unexpectedly declined in November to a five-month low as Americans became less upbeat about the economy and labor market. The Conference Board's index fell to 88.7 this month from an October reading of 94.1 that was the strongest since October 2007, the New York-based private research group said today.
Confidence Surveys
The report is at odds with other readings. The Thomson Reuters/University of Michigan preliminary November sentiment gauge reached a seven-year high, while the weekly Bloomberg Consumer Comfort Index rose last week to the highest level since January 2008.
While Americans were feeling less upbeat this month, they also indicated they're ready to spend more, according to the Conference Board's figures. More planned to purchase new appliances, including televisions, vacuum cleaners and washing machines, within the next six months. Buying intentions also rose for homes and used cars.
"Consumers were somewhat less positive about current business conditions and the present state of the job market," Lynn Franco, director of economic indicators at the Conference Board, said in a statement. "However, income expectations were virtually unchanged and gas prices remain low, which should help boost holiday sales."
Shares Ease
The Standard & Poor's 500 Index was little changed after closing yesterday at a record as the GDP data was offset by the drop in consumer confidence. The S&P 500 fell 0.1 percent to 2,067.03 at the close in New York.
Another report showed home prices climbed at a slower pace in the 12 months through September. The S&P/Case-Shiller index of property values increased 4.8 percent from September 2013, the smallest gain since October 2012, the group reported.
The rate of GDP growth last quarter followed a 4.6 percent increase in the previous three months, marking the biggest back-to-back gains since late 2003, according to the Commerce Department's report.
The median forecast of 81 economists surveyed by Bloomberg called for a 3.3 percent advance. Estimates ranged from 2.8 percent to 3.8 percent.
Consumer Spending
Consumer spending, which accounts for about 70 percent of the economy, grew at a 2.2 percent annualized rate in the third quarter compared with the previously estimated 1.8 percent. The improvement was spread across durable and non-durable goods, including recreational vehicles and restaurant meals.
"We probably have more momentum heading into the final quarter of the year," said Brian Jones, a senior U.S. economist at Societe Generale in New York, whose estimate of 3.8 percent growth was closest in the Bloomberg survey. "We're probably on pace for another 3 percent to 3.5 percent growth in the final three months."
As consumers boost spending on the back of the strongest job growth since 1999, companies such as Wal-Mart may benefit. The world's largest retailer posted third quarter earnings that beat analysts' estimates this month as same-store sales grew for the first time in seven quarters.
Consumers bought more clothing and home goods, and the company is "excited" about prospects for the holiday season, Greg Foran, chief executive officer of the company's U.S. division, said on a Nov. 13 conference call.
Fuel Prices
The drop in fuel prices "may give customers a little more discretionary spending power in the coming months," Foran said. The average cost of a gallon of regular gasoline was $2.81 on Nov. 24, the lowest level in four years, according to automobile group AAA.
Cheap gas has emboldened many consumers to step up auto purchases, with the industry poised for an unprecedented sixth straight annual sales increase next year. Deliveries of new cars and light trucks in 2015 will probably total 16.7 million, the average estimate of 12 analysts surveyed by Bloomberg News and the most in a decade. That bodes well for factory production.
The GDP report wasn't universally positive. Revised data for the second quarter showed the previously estimated increase in wages and salaries was cut almost in half and corporate profits last quarter rose less than in the prior three months.
Wages and salaries rose by $51.9 billion in the second quarter from the previous three months, revised down from an initially reported $102.5 billion gain. Preliminary data showed they climbed by $66 billion in the third quarter.
Incomes 'Solid'
Adjusted for inflation, the gain "is still solid," Stephen Stanley, chief economist at Amherst Pierpont Securities LLC in Stamford, Connecticut, said in a research note. The increase will probably be even bigger this quarter given the drop in fuel costs, he said.
Gross domestic income, which reflects all the money earned by consumers, businesses and government agencies, rose at a 4.5 percent annualized rate in the third quarter after rising 4 percent in the prior period.
Today's report also offered a first look at corporate profits. Pretax earnings increased 2.1 percent last quarter after an 8.4 percent gain in the previous period. They were up 0.4 percent from the same time last year.
Business investment in new equipment climbed at a 10.7 percent annualized rate last quarter, revised up from 7.2 percent.
Stockpiles
A bigger increase in stockpiles last quarter than first estimated was also less of a drag on growth. Still, a surfeit of inventory could contribute to a slowing in production that will restrain growth this quarter.
Excluding trade and inventories, the most volatile components of GDP, the economy expanded at a 3.2 percent pace, revised up from an initial estimate of 2.7 percent.
Offsetting some of that improvement was a smaller narrowing of the trade gap than previously calculated. The smaller gap between exports and imports added 0.8 percentage point to growth, down from a prior estimate of 1.3 points.
Similar contributions will be difficult to match in coming quarters as faster growth in the U.S. and slower growth among the country's trading partners boosts imports and slows exports.
Government spending showed little revision, climbing at a 4.2 percent pace, compared with the previously reported 4.6 percent rate, today's report showed. It was the biggest gain since the second quarter of 2009.
Before it's here, it's on the Bloomberg Terminal.
LEARN MORE