Colleagues Defend Uber Exec at Center of Storm
By and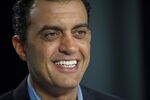 Emil Michael is the senior vice president of business at Uber whose inflammatory comments at a Nov. 14 dinner party in New York set off a media conflagration. Michael, BuzzFeed News reported, suggested hiring a team of investigators to look into the background of Uber's critics, including journalists. In the torrent of coverage since, Michael has been depicted largely as a boorish bully who apparently thought nothing of stooping to Nixonian tactics to undermine his company's enemies.
Some of Michael's closest friends and colleagues say that public image doesn't resemble the man they know, one they call an accomplished operator who is loyal and generous with his time. "I feel so terrible for him," says Bill Campbell, the former chief executive of Intuit, adding that he considers himself a friend and mentor to Michael. The public depiction, Campbell says, "is not anybody I know."
Michael declined to comment for this story, as did CEO Travis Kalanick and an Uber spokesperson. Michael has apologized, saying on Twitter that he was "plain wrong." Kalanick tweeted that he and Michael would learn from their mistakes, but the company has declined to discipline him publicly for the remarks.
At Uber, Michael, 42, has played a role in everything from partnerships and international expansion to the June financing round that valued the company at $17 billion. He also helped hammer out a deal with music-streaming service Spotify, announced Nov. 17, that allows Uber riders to select the music in cars that pick them up.
Michael helped strike a deal with American Express that gives extra reward-program points to cardholders who use Uber. He also signed Toyota Motor and General Motors, along with several banks and lenders, to create the company's controversial subprime lending program. This summer, Michael helped persuade companies, including Starbucks, TripAdvisor, and United Continental, to add an Uber button to their mobile apps.
Born in Cairo, Michael immigrated to the U.S. with his family in his infancy and grew up in New Rochelle, N.Y. He received a bachelor's degree from Harvard and a J.D. from Stanford and worked briefly at Goldman Sachs until 1999, when he decamped to Silicon Valley at the height of the dot-com bubble.
That year, Michael helped start Tellme Networks, which made voice recognition software for automated customer-service telephone systems. The company barely scraped by for years, but Microsoft acquired it in 2007. "He was upbeat at every meeting, even when things seemed bad," says Campbell, who advised TellMe.
From 2009 to 2011, Michael worked as a security adviser to the White House, serving as a special assistant to U.S. Defense Secretary Robert Gates. In 2012, he returned to the Valley as chief operating officer of Klout, a controversial social analytics company known for assigning an "influencer score" to people based on their connections on social media. At one point, the service deemed Justin Bieber to be more influential than President Obama. "We worked very closely for a very long time, and I never saw anything that raised an eyebrow on his ethics," says Klout founder Joe Fernandez.
Michael left Klout to join Uber in September 2013. "When someone needs help, he is the one who gets the call at night. People absolutely trust him because he is a person of integrity," says venture capitalist David Weiden, who met Michael at Harvard and worked with him at TellMe. Bill Gurley, a venture capitalist at Benchmark who is on the board of Uber and has known Michael for 15 years, says, "Emil is one of the kindest gentlemen in the business. Frankly, the implications [of this scandal] are so far off the character of the individual."
Uber's problems go beyond the comments attributed to Michael. The company is also looking into reports that its New York office's manager tracked the location of a BuzzFeed reporter using the app, without her permission. On Nov. 19, Senator Al Franken (D-Minn.) called for Uber to answer questions about its privacy policies, and the company hired a law firm to conduct an internal review.
Before it's here, it's on the Bloomberg Terminal.
LEARN MORE