Bonhams Hosts Fine Leica Centenary Sale in Hong Kong
by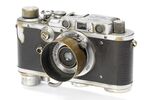 Famed German camera-maker Leica turned 100 this year. To celebrate, auction house Bonhams is hosting the Fine Leica Centenary Sale in Hong Kong this Saturday, November 29. No camera brand inspires the same sort of fanaticism among collectors. Even in an era when few people really want to take the trouble to shoot film (or even know where/how to develop it), vintage film Leica rangefinders are in high demand. This auction spans most of the brand's history, including cameras from the early 1930s through 2014.
An Unusual Sale
The Fine Leica Centenary Sale is a relatively tight sale, with only 84 lots total. Two of these are Leica ephemera (an advertisement and a display sign), seven are lenses, and the remaining 75 are camera bodies, bodies with lenses, or self-contained cameras. Because Leica has maintained the same lens mount since 1954, these cameras and lenses are still usable interchangeably with the most modern equipment. These are still tools, not tchotchkes.

There is a great disparity between the most covetable (i.e. most expensive) lots and the more affordable pieces. A few of the bodies and lenses are equipment that you can find almost any day in a decent used camera store. Sure, they're still not cheap, but they're hardly going to get the collectors salivating. Others, like the 560mm f/5.6 lens from 1964 are the stuff of photography legends.
Top Lots
Of particular interest are cameras with provenance. Most notable is a 1937 Leica II used by Yevgeny Khaldei to take "Raising a Flag Over the Reichstag." Yes, the actual camera, including some alterations Khaldei made to the original kit. At $390,000 to $520,000, it's one of the more expensive pieces for sale. Also hitting the block is a Leica NASA, a modified rangefinder used by the space agency in the 1960s. It still shows all of its battle scars and is estimated at $97,000 to $130,000.

The top lot is a Leica I(c) Luxus from 1930. It's estimated at $480,000 to $640,000, because who doesn't love a little gilt brass and faux snakeskin on their camera. These were made on special commission for VIP clients, and it's unknown how many ever left the Leica workshop. There is also one of a collection of 16 Leica M6 TTLs made for recently-deceased Sheikh Saud Bin Mohammed Bin Ali Al-Thani, the one-time owner of the world's most expensive watch. It is expected to fetch $40,000 to $57,000.
Before it's here, it's on the Bloomberg Terminal.
LEARN MORE