Americans in Poll Divided on Obama Immigration Action
Support for allowing undocumented residents to stay in U.S. is at an all-time low.
By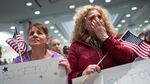 American voters are divided on President Barack Obama's executive order on immigration and also increasingly opposed to allowing undocumented immigrants to stay in the country, a poll released Tuesday by Quinnipiac University shows.
Forty-five percent say the president should issue an executive order if Congress fails to act on the immigration issue—as he did last week—while 48 percent say he should not. Obama announced plans to take action to protect up to 5 million undocumented immigrants from deportation provided they meet certain criteria.
Support for allowing undocumented immigrants to stay is at its lowest level ever measured by the poll. Offered three choices, 48 percent of voters say they should be allowed to stay with a path to citizenship, down from 57 percent in November 2013. Meanwhile, 35 percent say they should be required to leave the U.S., up from 26 percent a year ago and at the highest level recorded on the question by Quinnipiac. Eleven percent say immigrants should be allowed to stay, but not be allowed to apply for citizenship, similar to past surveys.
"Americans look at immigration reform with ambivalence," Tim Malloy, assistant director of the poll, said in a statement.
The results starkly contrast with two polls released Monday that showed greater approval for the president's action.  A Hart Executive Research Associates survey conducted for the pro-Democratic group Americans United for Change found that respondents favored Obama's move 67 percent to 28 percent.  The poll questions described Obama's action as one that "would focus immigration enforcement efforts on threats to national security while allowing some illegal immigrants to stay and work in the United States."
A poll of Latino voters by the firm Latino Decisions found that nearly 90 percent supported the president's action.
The Quinnipiac poll found that nearly three-quarters of Democrats support Obama's immigration moves, while 75 percent of Republicans oppose them. Independent voters are more divided with 51 percent opposing and 40 percent supporting.
Obama's approval rating is near an all-time low in the poll, with 39 percent approving of the job he's doing. That's close to his lowest-ever reading of 38 percent in a December 2013 Quinnipiac poll.
Just 42 percent of voters trust Obama more than congressional Republicans to do what's best for the nation, while 47 percent have a greater level of trust for Republicans, the poll shows. A slim majority of voters--51 percent--say it's good for the country that Republicans have taken over control of the U.S. Senate, but 67 percent of voters expect greater gridlock during the next two years.
The poll was conducted Nov. 18–23 and has a margin of error of plus or minus 2.4 percentage points.