'Scissorhands' Levy Is Best Chance to Avert Brazil Downgrade
Raymond Colitt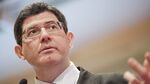 Joaquim Levy helped pave the way for Brazil's first investment-grade rating when he was treasurer a decade ago. President Dilma Rousseff now is calling on him to prevent a credit downgrade in her second term.
Rousseff is expected to appoint Levy, 53, to replace Finance Minister Guido Mantega as early as Nov. 27, according to a government official who was briefed on her plans and requested not to be named because the discussions were private. The move is part of a broader change in cabinet and policies the president pledged for her second term starting Jan. 1.
As treasurer for former President Luiz Inacio Lula da Silva, the University of Chicago-trained economist helped reduce Brazil's public debt and pay back the International Monetary Fund. Levy's propensity to cut spending earned him the nickname of Edward Scissorhands, a reference to the 1990 Tim Burton movie of the same name, when he was Rio de Janeiro state finance secretary, said a former colleague, Julio Bueno.
As finance minister now, he will need to jump start economic growth, tame above-target inflation, and narrow the widest budget deficit in a decade that threatens the country's investment-grade status. Levy, head of asset management at Banco Bradesco SA, Latin America's second-largest bank, is one of the best options in Brazil to tackle the task, said John Welch, macro strategist at Canadian Imperial Bank of Commerce.
"If you put Superman in that post, it'll be difficult, and he's pretty close to being Superman," Welch said in a phone interview from Toronto. "If Dilma gives him full autonomy, he may be able to avert losing investment grade."
Currency Gains
The presidential press office declined to comment in an e-mail when asked to confirm the nomination and whether he could help Brazil avoid a downgrade.
The real led global currency gains today on speculation Rousseff will allow her new finance minister to unwind measures that stunted economic growth and fueled consumer prices. The real appreciated 0.6 percent to 2.5301 per U.S. dollar today, the biggest advance among 16 major currencies tracked by Bloomberg.
On Levy's watch at the national Treasury from January 2003 to March 2006, Brazil reduced its public debt from 60 percent of gross domestic product to 48 percent. He issued Brazil's first sovereign bond denominated in reais and improved the country's debt profile by lengthening its maturity and reducing the share of foreign currency-linked bonds.
Investment Grade
Standard and Poor's awarded Brazil its first investment grade credit rating in April 2008. In March this year, it downgraded Brazil to BBB-, one level above junk, citing deteriorating fiscal accounts. Moody's Investors Service followed in September by lowering its outlook on the Baa2 rating to negative. That is the second-lowest investment grade.
The real has depreciated 8.2 percent since the downgrade, the most among major Latin American currencies tracked by Bloomberg.
Investors routinely ignore ratings companies' decisions. In almost half the instances, yields on government bonds fall when a rating action by Moody's and S&P suggests they should climb, or they increase even as a change signals a decline, according to data compiled by Bloomberg on 314 upgrades, downgrades and outlook changes going back as far as the 1970s.
Levy's Watch
On Levy's watch, Rio de Janeiro state was bumped up to investment grade by S&P. "An experienced and sophisticated management team" strengthened financial performance and enhanced transparency, the ratings company said in March 2010, when it announced the upgrade.
That experience will come in handy at a time when Brazil's public coffers are strained, said Carlos Kawall, chief economist at Banco J. Safra SA.
Brazil's budget deficit nearly doubled to 4.92 percent of GDP since Rousseff took office in 2011, while growth will slow to a projected 0.3 percent this year from 7.5 percent in 2010, according to analysts surveyed by Bloomberg.
Slower growth hasn't helped rein in consumer price increases. Annual inflation has breached the 6.5 percent ceiling of the target range four times this year as increased government spending and subsidized credit offset the highest benchmark interest rate in three years.
'Difficult Situations'
"He managed to carry out adjustments in more difficult situations than the current one," said Kawall, who succeeded Levy at the Treasury. "His choice alone is a sign to the market that the government wants to change strategy and tighten the budget."
Born in Rio, Levy studied naval engineering before receiving advanced degrees in economics.
Some members of Rousseff's Workers' Party criticized Levy for his austere policies as treasurer and a study that showed how minimum wage increases weighed on the budget. Mantega, who replaced Levy and other finance officials when he took office, said in 2006 that Levy had a "conservative" view that was out of touch with the government's philosophy, Estado de Sao Paulo newspaper reported.
The Finance Ministry's press office didn't respond to an e-mailed request for comment on Mantega's view of Levy.
While Levy has the know-how, he will also require the backing of Rousseff to carry out the spending cuts needed to put Brazil's economy back on track, Bueno, the former colleague who is now Rio de Janeiro state economic development secretary, said in an interview.
"In three or four months we will know if he has the support or not," said Bueno. "If Dilma doesn't want to support him, he will leave."
Before it's here, it's on the Bloomberg Terminal.
LEARN MORE