Why Wal-Mart Workers Keep Using One-Day Strikes
By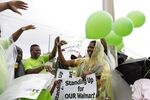 As recently as three years ago, a coordinated walkout at U.S. Wal-Mart stores was an unheard-of event. Now they happen throughout the year, culminating with a major strike the day after Thanksgiving, on Black Friday. Since the first one-day Walmart retail walkouts in October 2012, similar strikes—featuring a minority of the workforce, walking out for just one day—have targeted other employers, including fast-food restaurants, Target stores, and even government agencies that subcontract cleaning work.
That's not an accident. Over the past six decades, the overall number of strikes has plummeted. There were 470 major work stoppages in 1952; in 2013, there were just 15. That's not because industrial harmony has swept the land. It's because unions have gotten drastically weaker, sapping their ability to put on great shows of force, and because changes in the law and the economy have made strikes less effective.
One-day strikes don't shut down the workplace like iconic strikes of yore did (and some workers, like Chicago teachers, still can). But if done right, they can accomplish some of what those walkouts did: Embarrass companies, estrange them from their customers, and engage fellow workers and the broader public by disrupting business as usual and creating a public spectacle. Instead of halting production, they anchor broader campaigns of political, media, legal, and consumer pressure aimed at getting management to budge. "It's showing them that enough is enough," says Venanzi Luna, one of about 60 employees who joined a Nov. 13 California walkout backed by OUR Walmart, the non-union workers group closely tied to the United Food & Commercial Workers union. OUR Walmart insists its protests are paying off, pointing to a series of announcements by the retailer that address policies—from minimum-wage pay, to part-time scheduling, to accommodations for pregnant workers—that have been rallying cries for the campaign.
Walmart remains publicly dismissive of the activism. "This is beginning to feel a lot like Groundhog Day," spokesperson Kayla Whaling said earlier this month. This year, OUR Walmart insists it will outdo its maiden Black Friday effort in 2012, when more than 500 workers walked out, according to the organizers. (Last year, while thousands of non-Walmart workers turned out to protest the company, OUR Walmart declined to release estimates on how many actual company employees walked out.) "Oh absolutely," Denver OUR Walmart member Barbara Gertz told Bloomberg Businessweek when asked on a Nov. 14 conference call whether more Walmart employees will be on strike on Black Friday 2014 than in 2012. "Absolutely, we will have more workers than in past years." Labor groups around the country will be watching to see if that pledge comes true—not just because Walmart is America's dominant employer, but also because they're grappling with the same strategic dilemmas themselves.
Before it's here, it's on the Bloomberg Terminal.
LEARN MORE