Rand Paul's Not-So-Secret Plan to End the War on Terror by Declaring War in Iraq
The Kentucky senator lays out an end to Bush-Obama foreign policy.
By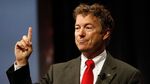 For five months, Democratic Virginia Senator Tim Kaine has been calling on Congress to assert itself in the war against ISIL. "The current crisis in Iraq, while serious and posing the possibility of a long-term threat to the United States, is not the kind of conflict where the president can or should act unilaterally," said Kaine in June. He and Arizona Senator John McCain, a Republican, started working together on the contours of a new Authorization of Military Force, superseding and ending the 2002 authorization passed by a spooked, pre-election Congress.