Nasdaq Bets on ETFs Joining Hong Kong-Shanghai Stock Link
Eduard Gismatullin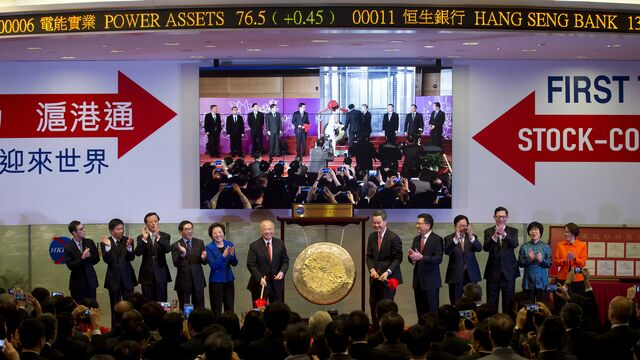 Nasdaq OMX Group Inc. is betting that Chinese authorities will let investors buy exchange-traded funds over the new link between Hong Kong and Shanghai.
The New York-based exchange operator is licensing its indexes to fund managers in Hong Kong as it prepares for a future phase of the link to include ETFs, said Robert Hughes, Nasdaq's vice president for global indexes. BMO Global Asset Management (Asia) Ltd., a unit of Bank of Montreal, launched two Hong Kong-listed ETFs that track Nasdaq indexes on Nov. 13.
"I fully expect that in the near future ETFs will be part of it," Hughes said in an interview in Hong Kong. "It would become a very interesting destination for ETF providers that have global businesses."
The exchange link, which opened a week ago, allows foreign investors to bypass China's capital-control barriers, giving them greatly increased access to the country's $4.2 trillion equity market. Charles Li, the chief executive officer of Hong Kong Exchanges & Clearing Ltd., has said China's capital-markets regulator may widen the range of assets permitted to trade over the link.
"Perhaps we can consider expanding the scheme to smaller stocks initially through index products like ETFs," the CEO wrote yesterday in his blog on the bourse's website.
Expanding Assets
A spokeswoman for the China Securities Regulatory Commission declined to say whether the organization would expand the range of assets available through the program. She asked not to be identified, citing internal policy. Hong Kong's market regulator said today that it will look at including the index-tracking funds in the link.
"Ultimately as the market develops, I think that will be inevitable," Ashley Alder, the CEO of Hong Kong's Securities and Futures Commission, said in Hong Kong today. "We'll always be looking at which financial instruments would provide better and better liquidity and options for investors."
International investors bought the maximum amount of Shanghai-listed shares permitted to them on Stock Connect's opening day. Since then, flows have fallen far short of the quota as concerns about execution risks and ownership of purchased assets deterred fund managers, according to Nick Ronalds, the managing director for equities at the Asia Securities Industry & Financial Markets Association, a trade association for the biggest investors and brokers.
Hong Kong investors are limited to daily purchases of 13 billion yuan ($2.1 billion), while mainland traders can buy as much as 10.5 billion yuan.
"The big investors are still waiting to see how it plays out when the dust settles," said Mark Konyn, who helps oversee $92 billion as the chief executive officer of Cathay Conning Asset Management Ltd. in Hong Kong.
(An earlier version of this story corrected the launch date of the ETFs to Nov. 13.)
Before it's here, it's on the Bloomberg Terminal.
LEARN MORE