Marion Barry, 1936-2014
Washington's iconic mayor dies at age 78.
By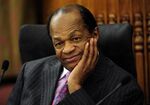 They took his name off the building. In 1986, shortly before winning the third of his four mayoral terms, Marion Barry opened the Frank D. Reeves Municipal Center on 14th and U Street. Tourists en route to Ben's Chili Bowl, and locals on their way to see jazz, could not miss the dedication near the top of the building: "Marion Barry Jr, Mayor." He'd argued for the government building to be erected there, at the center of the 1968 riots that hollowed out neighborhoods for a generation, and he'd gotten his way. He'd said the new office would help reinvigorate the U Street corridor, and was being proven right.
And then he went to jail. On January 18, 1990, Barry was nabbed in an FBI sting at the Vista Hotel, caught on camera smoking crack cocaine after being offered it by an old paramour named Rasheeda Moore. "I had no interest in the drugs," claimed Barry in his 2014 memoir, Mayor for Life, "but I figured Rasheeda would have some good sex with me if I agreed to do it with her."
Ten months later, Barry was given a six month sentence, and a businesswoman and Democratic activist named Sharon Pratt Kelly was elected the first female mayor of the district. In June 1991, on her order, the city spent $500 to remove Barry's name from the municipal building, and spent more to remove Barry-branded signs welcoming people into the district. Like it was ashamed of him.
This summer, when Barry gave me an interview to talk about his memoir, he reminisced about all the investments in U Street. Decades later, a city with a ruined national reputation—"Dodge City," the "Murder Capital," the place with a "crackhead mayor"—had become a magnet for gentrifiers. When they stumbled out of Marvin, or went to a left-wing book signing at Busboys and Poets, they looked right at the Frank D. Reeves Center, and saw the dedication: "Marion Barry Jr, Mayor." Barry had roared back into power in 1994. "I put that sign right back on the building," he said. 
Anyone who has not lived in D.C. might struggle to understand the resilience of Marion Barry. For twenty-four years, he was an easy punchline—or the set-up to a punchline about Washington. The city's insistence on re-electing Barry again and again baffled conservatives, who filed "Marion Barry" next to "Detroit" as examples of race-conscious black leadership ruining great cities. "If Marion Barry does somehow manage to ascend to the mayoral seat," gasped Republican New Jersey Rep. James Saxton in 1994, "we must examine the D.C. governing process and whether it is a truly effective use of taxpayer funds." After the elections, when Republicans took over Congress, they devolved some of Barry's power to a financial control board. In 1998, the undermined and disrespected Barry retired.
Six years later, he was running for the job he'd held till he died—council member from Ward 8, a predominantly black area with jobless numbers about twice as high as the rest of the city. In his final years, starting with a raw but empathetic profile by Matt Labash, Barry burnished his reputation as a character and a survivor. He careened from petty scandal to petty scandal, and kept winning elections. He talked starkly about racism and the need for black people to own their own businesses. In 2012, he told constituents that they needed to "do something" about the Asians coming in and opening "dirty shops." When he apologized for that remark, Barry managed to accidentally shoehorn in an insult to "Polacks."
He won re-election that fall with 88 percent of the vote. This year, a Barry who struggled to walk under his own power hit the campaign trail for Muriel Bowser, the black Democratic nominee for mayor. David Catania, the white Republican-turned-independent running as an outsider, sent out direct mail with Barry's face on it, warning about the company that Bowser kept. "We're gonna kick David Catania's ass," said Barry. Sure enough, Bowser won the election by 20 points. Every time someone challenged him or his legacy, Barry left them punch-drunk and defeated.
This had plenty to do with personality, and charisma—Barry was a natural—but it had just as much to do with work. Barry used the tools of government to expand the black middle class. As an organizer, he'd called the city's majority-white police force "an alien army of occupation." As mayor, he created a police force that was majority-black, patrolling a city where affirmative action was changing who got contracts and who worked for the city. Reviewers were frequently bored with Barry's memoir, which spent pages recounting who he hired for long-forgotten municipal jobs, and when this or that building went up.
He didn't write the book for those reviewers. He wrote it to restore his place in the history of black achievement, and take his story back from the "white men" who'd covered him at his lowest. Washington was richer than ever, and that was allowing people to forget how embarrassing Barry had been in the late 1980s and early 1990s, and to remember him as a colorful there-he-goes-again local pol. He was not satisfied with that. He wanted people to remember why he became so loathed.
"You shouldn't blame me for the racism," Barry told me this summer. "I didn't create it. I didn't bring it into being. It was brought into being because of the racist nature of the society. There are people at the Washington Post who don't like me to point that out. Using race. But race is real. I would encourage them to get where I am and look at it from my perspective. It's real."