Lindsey Graham: 'Shame on Us as Republicans'
The senator from South Carolina is frustrated with both his party and the president over immigration. And he's still considering a White House bid.
By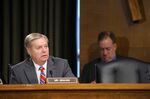 After expressing frustration with his own party over immigration reform inaction, Lindsey Graham, the long-standing Republican senator from South Carolina, suggested Sunday he still hasn't ruled out a 2016 presidential bid.