'Hunger Games' Installment Falls Short of Predecessors
Anousha Sakoui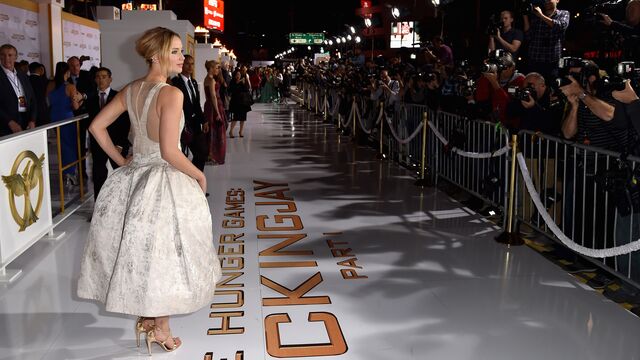 The latest film in "The Hunger Games" series fell short of its predecessors in its U.S. debut, held back by tepid reviews and the picture's absence from higher-priced Imax screens.
"Mockingjay -- Part 1," the first of a two-film finale from Lions Gate Entertainment Corp., collected an estimated $121.9 million over the weekend in U.S. and Canadian cinemas, researcher Rentrak Corp. said today in a statement. While that marked the biggest domestic opening of 2014, it was shy of the $150 million-plus scored by two prior films in the series as well as forecasts.
Worldwide, the film took in an estimated $275 million and surpassed its predecessor in most markets, Lions Gate said in a statement. That may not be enough to counter investor concerns about the domestic performance that sent shares down of the studio, run from Santa Monica, California, today for a second consecutive trading decline.
"To have the biggest opening of the year is pretty fantastic and shows the strength of the franchise," David Spitz, executive vice president of distribution for the studio, said in an interview. "We chose this date as a runway. Next week everyone is out for Thanksgiving."
Lions Gate fell less than 1 percent to $33.10 in New York today after dropping 5 percent on Nov. 21. The declines trimmed the shares' gain for this year to 4.5 percent.
Sales Outlooks
Boxoffice.com was estimating the film would collect $150 million on its debut, while the studio was predicting $130 million to $150 million. "Mockingjay -- Part 1" scored 67 percent positive reviews, according to Rottentomatoes.com, which aggregates comments by critics. Its two predecessors scored higher than 80 percent.
"If you are a fringe viewer looking for an exciting movie to watch over the weekend you might have been turned off by the reviews," said Eric Wold, an analyst at B. Riley & Co. who also cited bad weather as a reason people may have stayed away. "Weakness here could be made up overseas. The movie probably still comes in close to my $850 million global number but I don't think anywhere near the $1 billion some people were looking for."
The studio divided the last book in "The Hunger Games" trilogy by Suzanne Collins into two parts.
"Mockingjay -- Part 1" finds Katniss Everdeen, the heroine played by Jennifer Lawrence, in District 13, where the founders of the revolution are based.
Hoffman Dedication
After Everdeen destroyed the Games in the second film "Catching Fire," the story catches up with the efforts of the revolutionary leader, played by Julianne Moore, and Plutarch Heavensbee, played by Philip Seymour Hoffman. They recruit Everdeen to lead the rebellion against the Capitol and President Snow. The film is dedicated to Hoffman, who died of a drug overdose this year.
Many of the original actors return in the new film, with Liam Hemsworth, Josh Hutcherson, Woody Harrelson, Elizabeth Banks and Stanley Tucci reprising their roles. As the revolution against the Capitol starts up, Everdeen fights to rescue her love interest Peeta Mellark and other Games victors.
The picture may take in as much as $1 billion in worldwide ticket sales, Tuna Amobi, an analyst at S&P Capital IQ, said before the preliminary estimates were announced. Ticket sales are split with cinemas. The studio spent about $140 million making the picture.
Big Hero
Among returning films, Walt Disney Co.'s animated "Big Hero 6, brought in ticket sales of $20.1 million in its third weekend to place second. BoxOffice.com had forecast $20.5 million in sales.
''Interstellar,'' the Christopher Nolan space adventure from Viacom Inc.'s Paramount Pictures, placed third and generated $15.3 million at the box office in its third weekend, helped by ticket sales at higher-priced Imax theaters.
Weekend sales for the top 10 films fell to $184.5 million from $214.6 million a year earlier. Sales for the year to date have declined 3.6 percent to $9.17 billion.
The following table has U.S. movie box-office figures provided by studios to Rentrak. The amounts are based on gross ticket sales for Nov. 21 to Nov. 23.
                    Rev.    Pct.             Avg./   Total
  Movie            (mln)    Chg. Theaters   Theater  (mln)  Wks
================================================================
 1 Hunger Games    $121.9     --    4,151  $29,366   $121.9    1
 2 Big Hero 6        20.1    -42    3,650    5,513    135.7    3
 3 Interstellar      15.3    -46    3,415    4,492    120.9    3
 4 Dumb And Dumber   14.1    -61    3,188    4,415     57.7    2
 5 Gone Girl          2.8    -38    1,609    1,763    156.8    8
 6 Beyond The Lights  2.6    -58    1,766    1,492     10.1    2
 7 St. Vincent        2.2    -40    1,707    1,318     36.5    7
 8 Fury               1.9    -48    1,720    1,130     79.2    6
 9 Birdman            1.9    -25      862    2,150     14.4    6
10 Theory Of Everyth  1.5    106      140   10,798      2.8    3



Top 10 Films Grosses



   This Week     Year Ago      Pct.
     (mln)         (mln)       Chg.
===================================
    $184.5        $214.6       -14



Year-to-date Revenue



     2014          2013
      YTD           YTD        Pct.
     (mln)         (mln)       Chg.
===================================
    $9,174        $9,515      -3.6

Source: Rentrak Corp.
Before it's here, it's on the Bloomberg Terminal.
LEARN MORE