Advocates Fear Obama Proposal's Impact on LGBT Immigrants
"We're in a wait-and-see place," says one advocate.
By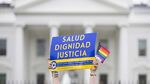 The Fourteenth Amendment to the U.S. Constitution, ratified in 1868, guarantees American citizenship to "all persons born or naturalized in the United States." This means that people who are in the U.S. illegally give birth to children who are American citizens. On Thursday night, President Barack Obama announced an executive order on immigration, the centerpiece of which is a program aimed at these people: parents of U.S. citizens who are at risk of deportation.
The president's action came as a relief to a huge number of undocumented immigrants living in the United States, as well as their supporters. Who'd want to separate parents from their kids?
But for one community of undocumented immigrants, Obama's action felt bittersweet. I spoke by phone on Friday afternoon with Caroline Dessert, the executive director of the advocacy organization Immigration Equality, which was formerly known as the Lesbian and Gay Immigration Rights Task Force. "What we heard last night is that between 4 and 5 million undocumented immigrants, who have been in the shadows for far too long, will get relief," Dessert said. "We welcome that, but worry that 267,000 undocumented LGBT immigrants will be excluded from relief." 
That's because of the emphasis, in Obama's policy and in immigration law generally, Dessert said, on biological ties. It isn't as simple for same-sex couples to have children as it is for heterosexual couples, and LGBT people who do have children are less likely to have a genetic connection to them, or, especially if they are undocumented or unmarried, legal rights.
People emigrate to the United States for a variety of reasons. For many gay, lesbian, bisexual, or transgender people, coming to live in the United States is a way to escape persecution in their home countries. Being LGBT is a crime in more than 80 nations; in some, such as Russia, Uganda, Nigeria, and Gambia, conditions are worsening. Diego Ortiz, Immigration Equality's communications director, said that in the first month after Russia passed its law barring "homosexual propaganda," the number of calls from Russians looking to immigrate jumped by 366 percent.
Ortiz also said that he has seen a dramatic increase in the number of LGBT people seeking asylum from countries including Uganda, Jamaica, El Salvador, Honduras, and Mexico. For some of these people, the prospect of deportation could mean far worse than economic precarity.
Jorge Gutierrez, a Mexico-born activist in Los Angeles with the organization Familia: Trans Queer Liberation Movement, sees discrimination in this. "A lot of the immigration laws in this country are really based around traditional family models, and a lot of that does not include the LGBT community," he told me. Gutierrez said he works with many queer people who were thrown out of their homes for their sexual orientation or gender expression. He conveyed particular distress about undocumented transgender women seeking asylum in the United States. Immigration officials place transgender women in detention centers with men, and there they face high rates of rape and abuse. Obama's speech, Gutierrez said, left him "very frustrated and concerned."
White House representatives did not respond to requests for comment on the activists' concerns. Dessert, who on Thursday night took part in a conference call for immigration organizations and advocates led by the White House's Valerie Jarrett, said that no specific mention of the LGBT community was made on the call. "We're in a wait-and-see place," she said. She said she hopes the text of the policy might soon change when it comes to blood ties so that it will be more inclusive of LGBT families. But for now, she said, she worries about same-sex couples with children being deported to homelands that might be unsafe for them.
What stings Dessert most is the sense that Obama's sympathetic immigration action is unsympathetic to this group of particularly vulnerable immigrants. "We are deeply concerned that our community will be left out," she said. "Almost none of our clients would get relief under the package as we know it."