U.S. Stocks Climb for 5th Week on Economy, Bank Stimulus
Oliver Renick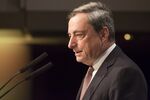 U.S. stocks gained for a fifth week, with benchmark indexes reaching all-time highs, on signs the U.S. economy is improving and central banks from China to Europe are taking additional stimulus measures.
Energy and raw-material stocks advanced as oil climbed for the first time in eight weeks. Caterpillar Inc. paced gains among industrials as China cut its benchmark interest rates for the first time since July 2012 and European Central Bank President Mario Draghi said he will do what is necessary to raise inflation. Best Buy Co. jumped 7.2 percent as retailers surged amid better-than-estimated earnings.
The Standard & Poor's 500 Index rose 1.2 percent to 2,063.50 for the five days, the biggest weekly advance this month. The Dow Jones Industrial Average gained 175.32 points, or 1 percent, to 17,810.06. The Stoxx Europe 600 Index climbed 2.9 percent as Germany's DAX Index surged 5.2 percent, the most since July 2013. The MSCI Asia Pacific Index slipped 1.3 percent.
"The biggest piece of news this week was those two surprises out of Europe and China," Marshall Front, chief investment officer at Chicago-based Front Barnett Associates LLC, said by phone. "People had been spooked by weakness in numbers coming out of Europe and China, and now money is moving back into economically sensitive areas like materials and industrials."
The S&P 500 has advanced 11 percent since falling to a six-month low on Oct. 15. The main gauge for American equities had plunged as much as 9.8 percent on an intraday basis amid concern global growth was slowing.
China Rates
China's decision to reduce interest rates as it faces the slowest annual growth since 1990 puts the country on the side of the ECB and Bank of Japan in deploying fresh stimulus, and contrasts with the Federal Reserve, which has stopped its quantitative easing program.
In Europe, Draghi strengthened his pledge of stimulus for the euro area by saying the ECB can't hold back in its fight to revive the economy and that it may broaden its asset-purchase program as part of efforts to accelerate inflation.
"People believe that the easy money continues and that's going to prop up the market," Sandy Villere, a portfolio manager at Villere & Co. in New Orleans, said in a phone interview. His firm oversees $3.4 billion.
Concern economic recoveries from the U.S. to Europe and Japan are failing to spur inflation has been cited by central bankers worldwide as justification for prolonged stimulus efforts. The S&P 500 fell 0.2 percent on Nov. 19 as Fed minutes showed some policy makers were concerned inflation isn't rising fast enough.
Economic Data
U.S. equities rebounded the following day as data from labor to housing indicated the economic recovery was strong enough to weather weakness overseas. Purchases of previously owned homes unexpectedly rose in October to a one-year high, while fewer Americans filed for unemployment benefits in the previous week. A gauge of U.S. leading indicators widened more than estimated.
The improvement in the U.S. contrasted with weakness abroad, as a purchasing managers' index for factories and services activity in the euro area dropped to the lowest level in 16 months and a factory gauge in China fell to a six-month low.
U.S. equities also got a boost from better-than-estimated earnings. Of the S&P 500 companies that have reported this season, 79 percent beat profit estimates and 60 percent surpassed revenue projections, according to data compiled by Bloomberg.
Retail Earnings
Best Buy jumped 7.2 percent and Lowe's Cos. rallied 8 percent to pace gains among retailers in the S&P 500, which advanced 1.7 percent as a group.
Best Buy rose after a surprise sales gain last quarter amid demand for higher-definition TVs. Lowe's, the second-largest U.S. home-improvement retailer, surged after sales at stores open at least 13 months climbed 5.1 percent.
GameStop Corp. plunged 15 percent. The largest video-game specialty retailer tumbled after third-quarter results fell short of analysts' estimates and the company predicted disappointing holiday profit.
Energy producers advanced 2.5 percent, the second-most among the 10 main S&P 500 industries, as West Texas Intermediate crude halted a seven-week slide. The group had fallen as much as 20 percent from a June high as the price of oil entered a bear market.
Phillips 66 soared 11 percent and Marathon Petroleum Corp. advanced 4.9 percent to pace gains.
Health Care
"Oil is trying to settle on a bottom," Brian Peery, co-portfolio manager at Novato, California-based Hennessy Advisors Inc., said by phone. "It's great for the consumer and some of the peripherals. You have a large portion of the economy getting a bump in discretionary income."
Deals news sent health-care stocks to a 1.5 percent advance. Actavis Plc. rallied 6.6 percent. The company agreed to pay about $66 billion for Allergan Inc., the maker of the anti-wrinkle treatment Botox, in this year's biggest pharmaceutical deal.
The deal puts an end to Valeant Pharmaceuticals International Inc.'s months-long hostile takeover fight for Allergan. Valeant shares jumped 8.3 percent, while Allergan added 5.3 percent.
Baker Hughes Inc. surged 9.9 percent after the third-biggest oilfield services provider agreed to be acquired by No. 2 Halliburton Co. for $34.6 billion in stock and cash.
Halliburton shares tumbled 8.1 percent.
Raw Materials
Raw-materials producers also rallied, posting a 2.8 percent gain for the best performance in the index. Mosaic Co. surged 4.6 percent and CF Industries Holdings Inc. rose 4.6 percent.
Caterpillar advanced 5 percent, the most in the Dow. Industrial shares gained as investors speculated the China stimulus will boost demand for equipment.
Intel Inc. rose 4.8 percent, the second-most in the Dow. The world's largest chipmaker raised its annual dividend by 6.7 percent and gave an optimistic forecast for 2015 sales.
The Chicago Board Options Exchange Volatility Index, the gauge of options prices known as the VIX, fell 3.1 percent to 12.90. The benchmark gauge of price swings climbed to a more than two-year high on Oct. 15. It has fallen 51 percent since then.
Before it's here, it's on the Bloomberg Terminal.
LEARN MORE