Two Months Later, There's Still a Wait to Buy the iPhone 6
by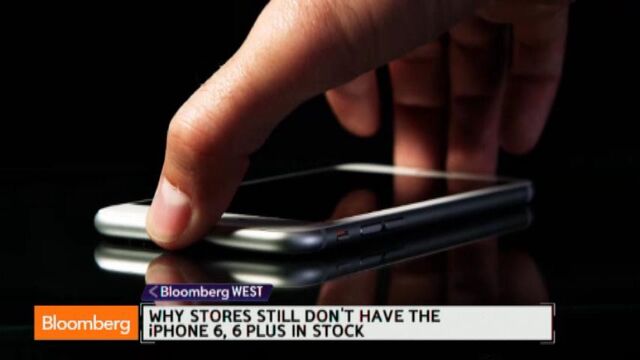 iPhone day, that time of the year when Apple fans must wait in line to get their hands on the newest product, is turning into iPhone season. The iPhone 6 and 6 Plus came out on Sept. 19 in the U.S. and seven other countries, and there are still lines at Apple Stores filled with people who want to buy them.
"Two months after the product release, it's still not widely available," Gene Munster, an analyst at Piper Jaffray, said on Bloomberg West. "The supply has been tight, but the reason is the demand seems to be better than what people had thought."
Piper Jaffray routinely measures the inventory on hand at Apple Stores after a new iPhone comes out. Typically, two months after launch, the stores have at least one of every configuration of the new iPhone, Munster said. Today, Apple has just 60 percent of the various models of iPhone 6 and 6 Plus.
Don't expect to get around the wait by shopping online. Apple's website says you'll have to wait at least a week for the company to fill an order for a midrange iPhone 6, not including shipping time. A top-of-the-line iPhone 6 Plus is estimated to take three to four weeks. (Those new iPads that Apple released a month after the iPhone 6 are in stock.)
Munster said the extended demand for new iPhones could produce better-than-usual results next quarter, and that might make investors rethink when they should get off the Apple wave next year.
Before it's here, it's on the Bloomberg Terminal.
LEARN MORE