Is Immigration Obama's Last Big Thing?
Obama's decision to use his sole power to reset the legal status and reshape the fortunes of about 5 million people is likely to stand as the last major piece of his domestic political legacy.
By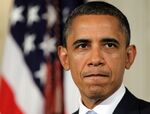 "Passions may fly on immigration," candidate Barack Obama said when he accepted the Democratic Party's nomination for president in August 2008. "But I don't know anyone who benefits when a mother is separated from her infant child or an employer undercuts American wages by hiring illegal workers."
Obama, the son of an American woman and a Kenyan man who came to the U.S. legally to study, has been promising to get something big done on immigration since he first ran for president. Time and again, he said legal recognition and a path to citizenship were needed to address the nation's roughly 12 million undocumented residents. Neither he nor the Latino voters and immigration advocates who put their faith in him—and later turned their frustrations on him—planned on it taking this long. They also didn't foresee a solution that bypasses Congress with executive actions that can be reversed by a future president.
Still, Obama's decision to use his sole power to reset the legal status and reshape the fortunes of about 5 million people—while setting off a political firestorm—is likely to stand as the last major piece of his domestic political legacy, ranked beside Obamacare, climate-change initiatives, the economic stimulus and broadening recognition of gay rights. In order for the protections he's extending to undocumented residents to last, Obama is banking on Hillary Clinton or another Democrat being elected president in 2016, or the prospect that a Republican simply can't run for the White House on a promise to repeal the order and win. 
"For more than 200 years, our tradition of welcoming immigrants from around the world has given us a tremendous advantage over other nations," Obama said. "It's kept us youthful, dynamic, and entrepreneurial. It has shaped our character as a people with limitless possibilities–people not trapped by our past, but able to remake ourselves as we choose."
The memorandums the president is expected to sign Friday will defer deportation for people who came to the U.S. as children and for parents of children who are citizens or legal permanent residents, provided they meet certain requirements. The changes wouldn't give these people, primarily from Mexico and Central America, an easier path to citizenship. The administration also says it will streamline the visa process for foreign workers and their employers and provide more options for foreign entrepreneurs, according to a fact sheet released by the White House. Obama will also tighten border security and expand a training program that allows foreign citizens who earn U.S. degrees in science, technology, engineering and math to work in this country for up to 29 months. 
"To those members of Congress who question my authority to make our immigration system work better, or question the wisdom of me acting where Congress has failed, I have one answer: Pass a bill," Obama said. 
The president's decision to act unilaterally infuriated Republicans, who argue he should have waited until the new Congress arrives in January, when they will control both chambers, and that they would finally be in a position to act. Obama saw things differently; this was the last card he had to play before running out of time to both announce the new programs and implement them. 
"Oh, gosh, yeah," said Lynn Tramonte, deputy director of the immigration advocacy group America's Voice. "What more could he have done? He gave them all the time in the world." Now, she said, "it'll be hard for Republicans to get elected running on a platform of trying to repeal this. That would become a huge flashpoint."
As the president prepared to deliver his address to the nation on Thursday night, Eliseo Medina, a Mexican-American labor and immigration rights leader, was making his way to Las Vegas, where Obama will promote his new policy on Friday. "It's huge," said Medina, the former secretary-treasurer of the Service Employees International Union, who remembered talking about immigration with Obama in 2007 in the early days of his candidacy. Back then, Medina said, "I got the very distinct impression that here was a man who really cared and that it was much more than somebody that was looking for votes."
For awhile, Medina said, that faith became "wobbly" and advocates asked themselves: "Is he just another politician who wanted our votes?" The Latino community was kept waiting as the president deported a record number of undocumented residents. That didn't reassure prospective Republican legislative partners that he's serious about security issues—and it did earn him the derisive nickname of "deporter-in-chief" from frustrated immigration advocates. They were also left hanging as the White House went silent after Senate passage of a bipartisan measure in the spring of 2013. Obama's goal was to give House Speaker John Boehner, an Ohio Republican, room to build a consensus for a bill within his own caucus. As time passed, it became clear the reverse had happened; House Republicans grew even more averse to acting on the issue. 
"It was always the same thing, that he wanted to get things done. But there was always the politics of the moment. The budget, the deficit reduction, the foreclosures, the health care, there was all this stuff. All of these years of delay and obstruction from the Republicans. When the Senate bill passed, he felt very optimistic," Medina recalled of Obama in 2013. "But it didn't go anywhere. Over time it became very clear there's no intention from the Republicans to act."
Medina has concerns about the path Obama has chosen. "Obviously it is short-term and we said from day one that the problem is it's temporary and the next president can undo it with the stroke of a pen, and that it does not lead to citizenship and full integration into society, and that it would not be as expansive as we need it to be," Medina said. Even so, it's a "major step forward" and "he'll always be remembered as someone who really cared and really delivered."
Even as Republicans push back against Obama's move, they already are recognizing that he has put them in a political box. This frustrates Hector Barreto, president of Hispanic Business Roundtable Institute and former U.S. Small Business Administrator under President George W. Bush, to no end. Obama never prioritized this in his first two years of office when Democrats controlled Congress and didn't lay the groundwork for legislation afterward in the way other presidents have when they're serious about passing a bill, he said. Doing this now, Barreto said, is overtly political and counterproductive and puts immigrants even more in the crosshairs of the fight while giving them a false sense of protection. He also eschews comparisons between Obama's order and those of Presidents Ronald Reagan and George H.W. Bush, saying those were predicated on legislation. Barreto sounds it out slowly to make the point: "Leg-is-lation."
Once done bashing Obama, Barreto issues another warning: "If Republicans go into the new Congress and don't ever take up any immigration reform, then they have nobody to blame" for the consequences but themselves. Republican governors who are gathered in Florida for an annual conference saw their own agenda largely overtaken by Obama's move this week, and some have accused the president of planning his timing as a distraction. (White House aides said the president finalized plans for the substance and timing of his order after returning last week from a trip to Asia.)
Yet even as the governors threatened legal action and debated the boundaries of separation of powers, their comments reflected a new political reality. "It is clear that he's overreaching," said Louisiana's Bobby Jindal. "He shouldn't be doing this executive order." Still, Jindal said immigration must be addressed, and with sensitivity. "These are human beings," he said. Ohio's John Kasich said Obama is making a mistake; the governor also said he would be open to considering a legal path to citizenship through legislation if he were still in Congress, depending on the details. Kasich said his thinking on this has "evolved" over time, and without getting into details of what he might support when he thinks of people in desperate circumstances, "I don't want to be in a position of where I make it worse for them."
Tramonte, the pro-citizenship advocate, said of Obama that "we've been optimistic before and been disappointed before, frankly." For now, though, she and her allies are "excited. What the president's doing now is saying, 'I've had enough playing games I'm going to do something,'" she said. "And that's leadership."
Angela Greiling Keane contributed to this report.
MORE ON BLOOMBERG POLITICS