Draghi Stokes Bond Gains With Record Yields From France to Italy
Eshe Nelson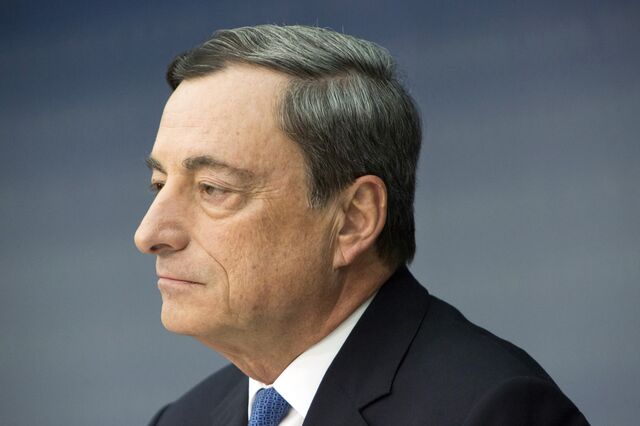 Euro-area government bonds rose, pushing yields in Ireland and Italy to record lows, as European Central Bank President Mario Draghi said officials would broaden debt purchases should the inflation outlook diminish.
Austrian and French 10-year borrowing costs also dropped to the least on record as the comments boosted speculation that the ECB will add buying sovereign debt to its stimulus program, or quantitative easing. That policy already includes purchasing covered bonds and asset-backed securities. Spanish and Portuguese securities also climbed as Draghi spoke today at a conference in Frankfurt.
"Now it's a question of when the broadening of the bank's program will take place not if the broadening will take place," Felix Herrmann, an analyst at DZ Bank AG in Frankfurt. "Stressing that the ECB would broaden the purchases if the latest measures taken are not effective enough gave the market another boost."
Italy's 10-year yield fell nine basis points, or 0.09 percentage point, to 2.21 percent as of 4:38 p.m. London time and touched 2.207 percent. The 2.5 percent bond due in December 2024 climbed 0.81, or 8.10 euros per 1,000-euro ($1,240) face amount, to 102.66. Ireland's 10-year rate declined to as low as 1.478 percent.
The yield on similar-maturity French debt dropped as much as three basis points to 1.109 percent, the lowest level since Bloomberg began compiling the data in 1990, while Austria's reached 0.941 percent.
Draghi Comments
"We will do what we must to raise inflation and inflation expectations as fast as possible, as our price stability mandate requires of us," Draghi said today at the European Banking Congress. "If, on its current trajectory, our policy is not effective enough to achieve this, or further risks to the inflation outlook materialize, we would step up the pressure and broaden even more the channels through which we intervene, by altering accordingly the size, pace and composition of our purchases."
Since June, ECB stimulus measures have been expanded to record-low interest rates, longer-term loans and asset purchases. Draghi also said today that the central bank must drive inflation and inflation expectations higher quickly. The ECB said it began purchasing asset-backed securities today.
The five-year, five-year forward inflation-swap rate, a gauge of the price-growth outlook in the euro area, fell one basis point to 1.79 percent. It has been below the ECB's target of close to 2 percent for more than two months and dropped to as low as 1.72 percent on Oct. 15.
Pimco's View
"With the ECB indicating it's going to be doing more, there has got to be some exposure to the southern European countries," Andrew Bosomworth, a money manager at Pacific Investment Management Co. in Munich, said before Draghi spoke. QE "probably won't make a great difference. It will probably work through the currency but monetary policy by itself can just buy time." He spoke in an interview on Bloomberg Television's "Countdown" with Mark Barton, Manus Cranny and Anna Edwards.
Spain's 10-year yield declined as much as nine basis points to a record 2.01 percent. The rate on equivalent Portuguese debt dropped 13 basis points to 3 percent, the lowest level since Oct. 13. German 10-year yields fell three basis points to 0.77 percent.
Benchmark German 10-year yields dropped to a record 0.715 percent on Oct. 16 amid speculation the ECB will buy assets as it seeks to boost consumer-price growth and prevent another recession in Europe's 18-state currency bloc.
Italy's government securities earned 13 percent this year through yesterday, Bloomberg World Bond Indexes show. Spain's also returned 13 percent and Germany's gained 8.3 percent.
Before it's here, it's on the Bloomberg Terminal.
LEARN MORE