Ex-Credit Suisse Trader's Hedge Fund Sees Crowded Yen Shorts
Netty Ismail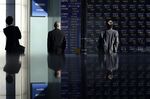 Charlie Chan, a former Credit Suisse Group AG proprietary trader who now runs his own hedge fund, is looking to get out of his position selling the yen.
Japan's currency, which slumped to a seven-year low of almost 119 per dollar yesterday, is unlikely to extend its slide to 125 as traders seek to take profits on their short positions, said Chan, the founder of Singapore-based Charlie Chan Capital Partners Pte. His Splendid Asia Macro Fund returned almost 20 percent this year, as investments in currencies, bonds and stocks in Asia paid off, he said.
The yen rose today, paring the sharpest five-week drop since 1995, after Japanese Finance Minister Taro Aso said the currency has depreciated too fast. Wagers by hedge funds and other large speculators the yen will weaken exceeded bets it will strengthen by 82,563 in the week ended Nov. 11 after increasing to 120,878 on Sept. 30, the most since January, according to data from the Washington-based Commodity Futures Trading Commission.
"It might break 120 yen but it won't be there for long," Chan, 55, who previously worked at Credit Suisse for more than 25 years, said today in a telephone interview. "If everybody thinks it's a slam dunk easy trade, then there will be profit-taking along the way."
Yen Gains
The yen rose 0.4 percent to 117.72 per dollar as of 7:10 a.m. in London after tumbling to 118.98 yesterday, the weakest since August 2007. It has fallen more than 9 percent since Oct. 17, the sharpest five-week decline since September 1995.
Shorting involves selling borrowed securities, with the aim of buying them back after their prices fall for a profit.
Japan's currency has weakened 4.6 percent this month against the dollar after the Bank of Japan surprised investors at the end of October by expanding already unprecedented stimulus in an effort to stem more than a decade of deflation. Prime Minister Shinzo Abe, who is expected to dissolve the lower house of parliament today for the vote to be held in mid-December, is trying to revive the world's third-largest economy that has slid into a recession.
'Drastic Steps'
"The economy remains weak and Abe will take more drastic steps, which will initially be negative for the currency," Chan said. "But everybody is playing that trade. They will want to get out and it may not be easy to get out."
Chan started his hedge fund in 2011 and currently manages almost $200 million, he said.
Other Asian currencies, which have followed the yen lower, are also unlikely to weaken much further, Chan said. South Korea's won slumped to a near 15-month low yesterday and the Singapore dollar slid to its weakest level in almost three years.
"Asian currencies should come back," Chan said. "It's really a Japan problem."
The fund's strategy for a stronger dollar may not hold next year even as the Federal Reserve moves to raise its benchmark interest rate, Chan said.
The Bloomberg Dollar Spot Index, which tracks the U.S. currency against 10 major counterparts, is heading for its fifth monthly gain, the longest winning streak since March 2013.
"It's gone a long way and the meat is three-quarter cooked," Chan said, referring to the greenback. "A late entrance to the trade could end up with burned meat, if you're not careful."
Before it's here, it's on the Bloomberg Terminal.
LEARN MORE