A Republican Ticket Hillary Clinton May Fear
At a Clinton loyalist meeting in New York City, Jeb Bush and Rob Portman's names are in the air.
By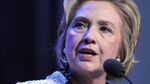 Clinton confidant Harold Ickes didn't have any news on what his audience most wanted to hear—Hillary Clinton's presidential bid—so he turned to a classic political tactic, redirection.
"I don't know if there are things we don't know about these people that might disqualify them," he said Friday at an all-day conference of Clinton donors in New York City. "But I would think that a Jeb Bush and a Rob Portman—just as a hypothetical—would be a strong ticket."
The pairing of the former Florida governor and Ohio senator, said Ickes, would give Republicans an edge in the candidates' home states, which carry a significant number of electoral votes. Bush's marriage to a Hispanic woman and fluency in Spanish would also position Republicans well in Colorado, another crucial swing state. The result would be a tough challenge for Clinton—or whichever Democrat wins the nomination.
"If Republicans were to win Florida and Ohio and Colorado, it's hard to total up 270 for Democrats," he said.
The conference was thrown by Ready for Hillary, a super-PAC devoted to promoting a Clinton candidacy. While the organization is unaffiliated with her official operation, the event attracted many of the top players in Clintonland, who gave presentations to about 200 donors at closed-door strategy sessions. The biggest asset of the group is its list—a roster of 3 million people interested in Clinton that would be transferred to the campaign if she joins the race. It means Clinton would start with a ready army that she could tap for dollars and messaging. Other candidates, said Ready for Hillary adviser Mitch Stewart, might take months to reach those kind of numbers. "The list of things you can ask that list is almost limitless," said Stewart, who oversaw battleground-state strategy for the Obama campaign.
The campaign-in-waiting was in full force. A gauzy, four-minute, campaign-style video promoted her bid and donors cornered strategists to offer their advice on when Clinton should formally announce a campaign. James Carville, a strategist with longstanding ties to the Clintons, cracked up attendees at a lunchtime panel, joking that Republicans had a better chance of picking Texas Governor Rick Perry as their nominee than Kentucky Senator Rand Paul. Fundraisers for pro-Clinton super-PACs stressed just how expensive the race could get. And the Democratic strategists who ran the party's midterm efforts tried to find a silver lining in the dismal losses of Nov. 4 (slightly higher Democratic turnout, they said).
Of course, Clinton's fan club was most excited to speculate on their heroine and her big decision. "They're just holding it tight," Ickes said about the Clintons. "And you know what, they've got to hold it tight because we all just talk too damn much."
Still, the conference provided plenty of fodder for those speculating on a future campaign. Democratic Senatorial Campaign Chairman Guy Cecil shared a stage with Stephanie Schriock, the head of EMILY's List. Both are said to be under consideration for top campaign roles. "I'm not going to talk about any conversations I may or may not be having with any candidates who may or may not be running for office," said Schriock.
It also highlighted the challenges Clinton will face organizing the vast and sometimes unwieldy apparatus of donors, super-PACs, strategists, and other loyalists. But the strategy and messaging complications that come with it are a necessarily evil for an effort whose cost could exceed $1 billion. "I'm not going to kind of get into numbers, but the answer is enough resources to communicate the message," said Buffy Wicks, executive director of Priorities USA Action, the big-money super-PAC backing Clinton. Wicks also did not rule out playing in a presidential primary on behalf of Clinton. "We think Hillary Clinton is the strongest candidate," Wicks said.
The group met just days after former Democratic Senator Jim Webb of Virginia announced he was forming an exploratory committee. While Webb lacks the organization and campaign skills of Clinton, he does have an independent streak and authentic populist message that could gain some traction—and get under the skin of the front-runner and her loyalists. Vermont Senator Bernie Sanders, best known for being the only socialist in the U.S. Senate, is also weighing a bid. "My commitment was so complete in 2008 and my disappointment so profound that it has resulted in the effect of having dreams about Bernie Sanders," said Jerry Crawford, an Iowa Democratic operative who's long backed the Clintons.
Crawford wasn't the only one trying to fend off flashbacks from the 2008 campaign, when Clinton's early lead turned into a months-long primary slog against then-Senator Barack Obama. "There is no inevitability. I've been to Salt Lake City. I've been to Tulsa. Those are not stops on the inevitablity tour," said Craig Smith, a Clinton confidant now advising Ready for Hillary. "There are delegates all over and she's going to have to get them all."