U.S. Stocks Rise to Records, Dollar Advances With Oil
Joseph Ciolli and Jeremy Herron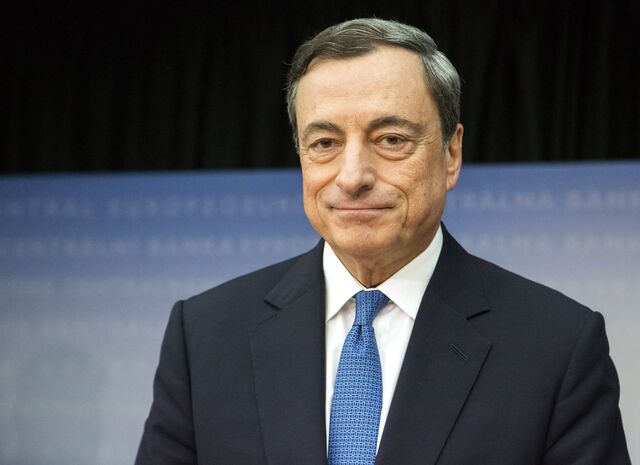 U.S. stocks rose, with benchmark indexes closing at all-time highs, and the dollar advanced with oil and metals after China cut interest rates. The euro weakened as Mario Draghi said the European Central Bank must drive inflation higher.
The Standard & Poor's 500 Index climbed 0.5 percent to a record at 4 p.m. in New York. The MSCI All-Country World Index advanced 0.7 percent, while the Stoxx Europe 600 Index rallied 2.1 percent to a two-month high. The euro fell the most in a year versus the yen, and the Bloomberg Dollar Spot Index jumped to a five-year high. Copper climbed 0.6 percent and oil climbed 0.9 percent.
China cut benchmark interest rates for the first time since July 2012, stepping up efforts to support the world's second-largest economy. The move put the People's Bank of China on the side of the ECB and Bank of Japan in adding stimulus. Draghi said today the ECB needs to accelerate inflation and may broaden its asset-purchase program.
"Asia is strong on the interest rates, and Europe is strong on the Draghi comments," Michael James, a Los Angeles-based managing director of equity trading at Wedbush Securities Inc., said in a phone interview. "There's a positive flow coming through to U.S. businesses. A rising tide lifts all boats."
Stocks Rise
The advance in global shares pushed the MSCI All-Country World Index's gain this week to 1.1 percent, the most since October. Commodity and energy companies rose the most today.
The S&P 500 extended a record and capped a fifth weekly increase, the longest streak since September. The index has rallied 12 percent this year.
The Stoxx 600 capped a 2.9 percent rally in the past five days for a second weekly advance. Germany's Dax Index jumped 5.2 percent in the week, its best since July 2013.
China lowered the one-year deposit rate by 0.25 percentage point to 2.75 percent and the one-year lending rate by 0.4 percentage points to 5.6 percent, effective tomorrow, the PBOC said. Earlier, it was said to have added money to the banking system as a cash shortage stemming from new share sales drove the benchmark money-market rate up by the most since July.
Very Significant
"Although it's not a massive cut, it is very significant," said Brian Coulton, an emerging-market strategist at Legal & General Investment Management in London. His firm oversaw 452 billion pounds ($708 billion) of assets at the end of 2013. "We are by no means going back to 'big stimulus' in China, but policy support to cushion the growth slowdown has just become clearer."
The euro fell 1.2 percent to $1.2388 after Draghi's speech. The Bloomberg Dollar Spot Index gained 0.3 percent to the highest since March 2009.
Since June, the ECB has cut interest rates and purchased covered bonds to boost the size of its balance sheet to early-2012 levels, signaling an increase of as much as 1 trillion euros ($1.25 trillion) to help revive the euro-area economy. Buying of asset-backed securities is due to start as soon as today.
"We're at the point where Draghi has to deliver something," said Andrew Herberts, head of U.K. private investment management at Thomas Miller Investment Ltd. in Edinburgh. His firm oversees $3.9 billion. "You've seen him talk up markets reasonably well, but people are waiting to see what he can deliver."
Italy, France
Italian 10-year yields dropped nine basis points to a record-low 2.21 percent. The rate for French debt with a similar maturity also fell to its lowest level. Spain and Portugal's 10-year yields declined more than eight basis points.
Among stocks that moved on corporate news, Bouygues SA climbed 4.4 percent after Altice SA's chief executive officer said the company would be open to discussing a deal to buy all of Bouygues Telecom. Air France-KLM Group rallied 3.8 percent after Le Figaro reported the carrier is reorganizing its short-haul flights.
In the U.S., Caterpillar Inc. jumped 4.3 percent to pace gains in industrial shares. Ross Stores Inc. rose 7.3 percent after raising its full-year earnings forecast. GameStop Corp. slumped 13 percent after lowering its full-year earnings forecast.
Raw-materials producers and energy shares in the S&P 500 rallied the most, adding at least 1.2 percent as all of the 10 main groups advanced.
Emerging Equities
Japan's yen rose for the first time in seven days against the dollar. It added 0.4 percent to 117.72 per dollar and jumped 1.6 percent to 145.89 per euro.
The MSCI Emerging Markets Index added 1.5 percent for a fourth day of gains, helped by increases in Chinese stocks. The gauge has advanced 1.4 percent in the past five days for a second weekly gain.
The ruble climbed 0.9 percent, a fifth daily gain, as crude oil rose and demand for rubles from domestic taxpayers increased. The currency is heading for its first advance for the five-day period in 11 weeks, ending the longest run of losses since 2005.
West Texas Intermediate crude rose 0.9 percent, rebounding after erasing earlier gains of more than 1 percent. WTI settled at $76.51 and advanced 0.9 percent in the week, its first gain since September.
Half of the 20 analysts surveyed this week by Bloomberg forecast the Organization of Petroleum Exporting Countries will cut supply at its Vienna meeting to stem the plunge in prices, while the other half expect no change.
In the seven years since the surveys began, it's the first time participants were evenly split. The only meeting that created a similar debate was in December 2007, when crude was soaring to a record.
Copper advanced 0.6 percent, while zinc gained 2 percent and aluminum added 1.1 percent.
Gold climbed 0.6 percent to settle at $1,197.70, while silver gained 1.6 percent to $16.459 an ounce.
Before it's here, it's on the Bloomberg Terminal.
LEARN MORE