UBS Tries Old-School Investment Banking
The goal: Give advice and conduct trades while taking less risk
By , , and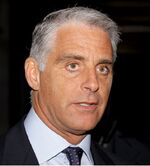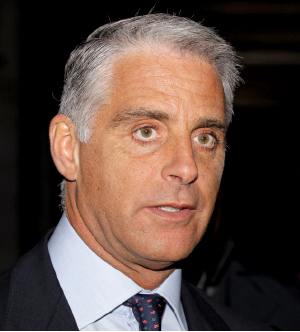 As head of the investment bank at UBS, Andrea Orcel is trying to revive a lost business model: connecting buyers and sellers of stocks and bonds and advising corporate clients—without borrowing money to boost returns. "What I would very much like to create is a real investment bank," says Orcel, "the kind that there aren't anymore."
Orcel, a 51-year-old Italian who joined the bank in 2012, is making a virtue of necessity. UBS, Switzerland's largest bank, lost 57 billion Swiss francs ($59.5 billion) during the financial crisis and had to be rescued by the state, which then imposed some of the toughest banking rules in the world. The losses, legal problems, and new regulations left Orcel and Chief Executive Officer Sergio Ermotti little choice but to rein in the investment bank, which is responsible for mergers and acquisitions, underwriting of stock and bond offerings, and trading bonds, stocks, and currencies. In 2013 it contributed about 30 percent of the bank's revenue; wealth management accounted for most of the rest.
Sitting in a conference room at the investment bank's offices in Opfikon, outside Zurich, Orcel says he disagrees with those who say there's no middle ground between global giants such as JPMorgan Chase and Goldman Sachs and advisory boutiques like Rothschild. UBS is slimming down in part to comply with new capital requirements that make it more expensive for the bank to engage in activities such as bond trading. He says a smaller UBS investment bank can provide services clients demand without putting shareholder or taxpayer money at risk. He expects the transformation, which began in 2012, to take three to five years.
In the past two years, UBS has eliminated almost 5,000 investment banking jobs, cut assets by two-thirds, curtailed bond trading, and imposed an approach that relies more on relationships than providing financing to win business. Investors have mostly applauded UBS's decision to shrink its investment bank, boosting the company's stock 37 percent in Zurich trading in the past two years. That compares with a 22 percent increase at Credit Suisse, Switzerland's second-biggest lender, which hasn't gone as far in scaling back its securities unit.
Guy de Blonay, a director at London-based Jupiter Asset Management, which holds UBS shares, has his own idea of what needs to be done. "UBS has been successful in shrinking the balance sheet and refocusing the business," he says. Now, "the investment bank needs to resolve outstanding litigation, reduce costs, establish a track record of sustainable earnings across the cycle, and avoid large losses, even in difficult times."
In early November, regulators ordered the bank to pay almost $800 million for attempting to rig currency markets, and it could face additional penalties as investigations continue. UBS paid about $1.5 billion to U.S., U.K., and Swiss regulators in 2012 for rigging global interest rates. To deter misconduct, the bank last year introduced periodic background checks for employees at the managing director level and above, and it's extending the screening to lower-level employees. UBS banned the use of some online chat rooms a year ago, after regulators cited electronic messages as evidence of wrongdoing in rate-rigging investigations. "We cannot exist, we cannot survive without continuing to work on the culture," Orcel says.
The fixed-income business is undergoing the biggest changes. Before the financial crisis, global banks such as UBS held a lot of assets on their balance sheets, both as potentially profitable investments and to facilitate trading with clients. The new UBS is focusing only on customers, according to Chris Murphy, co-head of foreign exchange, rates, and credit. While in the past UBS might have invested in distressed debt, the bank now pitches it to clients, he says. "Our clients are starting to see that we're doing some things slightly different," Murphy says. The skills required from employees are "distinctly different" than a decade ago, and the new approach relies less on a star trader or salesperson, he says.
UBS ranks 12th among advisers on mergers and acquisitions this year, down from seventh in 2007. It's struggling to win M&A assignments because it no longer routinely offers to finance deals it advises on, according to two former bankers who asked not to be identified discussing their former employer. Orcel says bankers who can't build a relationship without relying on lending are focused on either the wrong clients or the wrong way to serve them. UBS is hiring bankers in Europe and the U.S. to replenish the talent pool depleted by years of turmoil. In equities trading, Orcel wants UBS to return to a top-three spot it held before the financial crisis. UBS ranked fifth in equities in the first half of 2014, according to analytics firm Coalition.
The commitment to old-style investment banking is starting to bear fruit, Orcel says: "We're gaining clients. We are delivering." In the first half of this year, UBS's unit was the most profitable—measured by return on equity—of the big global investment banks. The future of the unit may be beyond Orcel's control. "Creating a new investment bank is a great opportunity," says Peter Hahn, a lecturer at London's Cass Business School. "But Orcel has to achieve this in the face of perpetual questions about the strategy and future of UBS: Does Switzerland really want its big banks in the investment banking business?"
BOTTOM LINE -
The bottom line: After losses and legal issues, UBS has cut 5,000 employees and reduced assets by two-thirds at its investment bank.
Before it's here, it's on the Bloomberg Terminal.
LEARN MORE