Thanksgiving Scorecard: Pie Prices Climb And Turkey Drops
Lydia Mulvany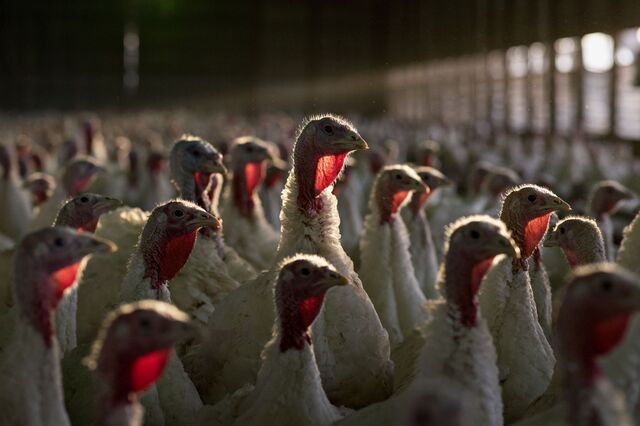 When the bill for Thanksgiving comes in higher this year, blame the sweet-potato casserole.
Americans will be paying the second-highest costs on record for their Thanksgiving dinners, even though turkeys are cheaper. Higher prices for sweet potatoes, whipping cream, and pumpkin-pie mix are driving the gains. A feast for 10 will come in at $49.41 this year, a modest 37-cent increase from 2013, while just shy of the all-time high of $49.48 set in 2012, according to a price survey by the American Farm Bureau Federation that was started in 1986.
"It was striking to me how stable prices were compared to a year ago," John Anderson, AFBF's deputy chief economist, said in a telephone interview yesterday. "That's a 10-serving meal for a little under $5 a serving, so that remains a very affordable deal for Americans."
Turkeys prices fell because retailers offered discounts to lure customers, even though U.S. grocers are paying the highest prices ever at the wholesale level. Americans eat about 46 million of the birds at the holiday, the National Turkey Federation estimates.
"It's attractive to feature turkey around Thanksgiving to get people in the store," Anderson said. "Part of what's allowing them to do this is energy costs have been down quite a bit, and that helps them maintain their margins."
The 0.8 percent gain for the cost of the Thanksgiving meal is in line with broader measures of inflation, which have stayed tame. Bigger supplies of crude oil and crops are holding down food and energy costs. The personal consumption expenditures index, the Fed's preferred inflation gauge, rose 1.4 percent in September from a year earlier and has been short of the Fed officials' 2 percent goal since April 2012.
Turkey Costs
Prices for a 3-pound (1.4 kilogram) bag of sweet potatoes rose 6 percent to $3.56, and the cost of a half pint of whipping cream climbed 8.1 percent to $2. A 16-pound turkey will cost shoppers $21.65 this year, down from $21.76 in 2013, the AFBF said. The cost of living in the U.S. was little changed in October, the Labor Department said today.
More than 20 percent of annual turkey consumption occurs on Thanksgiving, which will be celebrated this year on Nov. 27, the National Turkey Federation estimates.
"Some grocers may use turkeys as 'loss leaders,' a common strategy deployed to entice shoppers to come through the doors and buy other popular Thanksgiving foods," the group said in the release.
West Des Moines, Iowa-based Hy-Vee Inc., with 235 stores in eight Midwestern states, is giving away one frozen turkey of 10 pounds to 14 pounds to all customers who purchase a ham through Thanksgiving, according to Tara Deering-Hansen, a spokeswoman. The same promotion has run for six years.
The AFBF survey also includes bread stuffing, rolls with butter, peas, cranberries, a relish tray of carrots and celery, pumpkin pie with whipped cream, coffee and milk.
For the survey, 179 volunteer shoppers checked prices at grocery stores in 35 states without taking advantage of special promotions. The survey is an informal gauge of price trends, the group said.
Before it's here, it's on the Bloomberg Terminal.
LEARN MORE