Retailers Look to Technology to Trim Holiday Merchandise Returns
Holiday return rates are three times the usual, costing sellers billions
by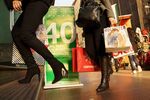 With Christmas fast approaching, Stage Stores is busily stocking its 866 stores, in small towns and neighborhoods across the U.S., with the sweaters, dresses, and footwear that are gift-giving staples during the holiday season. But the Houston-based retailer is also preparing for a second, less-loved surge: that of the inevitable postholiday returns. Stage's average rate of return throughout the year is about 7 percent of sales in its physical stores and about 11 percent online, adjusted for exchanges. Over the holidays, those figures grow. (Many merchants keep the exact increase a secret.) Says Steven Hunter, chief information officer at Stage: "Holiday returns for any retailer can be challenging."
That's an understatement. The Christmas season is a windfall for retailers, who book as much as 40 percent of their annual sales during the season, but many of those reindeer sweaters, neon socks, and micro-miniskirts in size 16 come back to haunt them. Post-holidays, retailers see triple the number of returns of any other time of year, says Jack Plunkett, chief executive officer of Plunkett Research. "We think something will fit or look good on us, and it doesn't, and we send it back," he says. The resulting pileups of returning merchandise, he says, "create a huge problem for the whole retail system."
Returned apparel often is no longer in season, or items are brought back to locations that don't need them. That means fewer than half can be resold at full price, finds researcher Gartner. Retailers have to discount or even dump the rest—so returns end up costing U.S. merchants as much as $20 billion a year, says Sucharita Mulpuru, an analyst at Forrester Research.
With more online merchants letting customers ship returns free of charge, many customers have begun ordering many items in multiple sizes. "When you have generous return policies like this, consumers will take advantage of it," Mulpuru says. "Consumers will often buy sizes 2, 4, and 6 and return two of them. I remember talking to a retailer, who said, 'I think free returns are a stupid policy. It's not cost-effective for me.' But everyone is terrified of losing market share, losing their customers."
Gartner recently called returns "the ticking time bomb" that threatens retailers' profitability. To avoid that blowup, merchants are turning to new technologies. Online apparel seller Revolve, using software from OrderDynamics that tracks returns by week, brand, and product size, recently determined that a size chart for a new brand it was carrying wasn't standard, so items didn't fit well. The retailer replaced the chart, and the problem was solved. "A 1 percent reduction in returns can translate into a half-percent of additional profitability for the company," says David Pujades, Revolve's chief operating officer. "It's a great area of focus. For us, there's money there."
Stage Stores invested a seven-figure amount in a slew of technologies, including software from SAS, that has begun examining heaps of the store's data to generate recommendations for what sizes and quantities should be shipped to each of its locations. "Currently, small sizes are sent to most of our stores, and those small sizes, based on customer demand, may turn into markdowns," Hunter says. That's because even though smaller sizes are popular at a Stage store along the Mexican border, customers in its Midwest locations tend to shop for bigger clothing. Stocking a standard mix of sizes nationwide means that sizes favored in some locations often run out. When that happens, Hunter says, a customer who is unable to find a large may grab a medium—only to return it later.
Stage also bought a system from NCR that matches bar codes of items customers order with items being packed to be shipped from its warehouses—that last-minute double-check keeps simple mistakes from becoming costly returns. Such investments have paid off: Stage's online return rate has declined from 16 percent two years ago, to 13 percent, according to Hunter. "For us it's a benefit in the millions of dollars," he says.
The quest for fewer returns has fueled startups such as London-based Fits.me and Sweden's Virtusize, which essentially create virtual fitting rooms for online shoppers. Four-year-old Fits.me has raised $20 million in venture funding and already has three dozen retailers as customers. "We used to knock on their doors, and now they are knocking on our door asking what we do," says James Gambrell, the company's CEO.
Fits.me, available for websites and, starting this year, in mobile apps, shows a shopper a model who shares her dimensions photographed wearing the clothes in the size and style she selected. "You can actually see where the buttons start to separate, or something is grabbing around the shoulder or the neck," Gambrell says. Scottish retailer M&Co., which has about 300 brick-and-mortar stores plus a website, deployed Fits.me last Christmas. Shoppers who use Fits.me, on average, reduced their returns from 33 percent to 23 percent of total purchases, says Lesley McCormack, senior website coordinator for the retailer. "So they only buy one instead of two," she says. "We are trying to make them a little bit more confident."
Other software can suggest colors and styles that match customers' previous purchases or suit their body type. A sweater that may look great online but doesn't look great on pear-shaped women may not be marketed to them in store e-mails, says Jane Schoenborn, a vice president at women's wear retailer Lilly Pulitzer, which uses analytics software from AgilOne to help interpret its sales data. "We know her body size and what she loves a little bit more, so when we are marketing to her, she knows this product is going to fit."
Before it's here, it's on the Bloomberg Terminal.
LEARN MORE