Net-a-Porter's Owner Said to Mull 2015 IPO of Retailer
Svenja O'Donnell, Andrew Roberts and Ruth David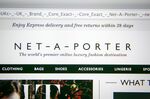 Cie. Financiere Richemont SA is considering an initial public offering of online retailer Net-a-Porter Ltd. as soon as next year, according to people with knowledge of the situation.
Richemont, the world's largest jewelry maker, has held talks with banks to discuss options for the London-based company, said the people, who asked not to be identified because the plans aren't public. It may also consider a sale, two of the people said. The stock rose as much as 2.7 percent.
Either move "makes sense," said Rene Weber, an analyst at Bank Vontobel, adding he has a preference for a sale. "Online retailers don't belong to luxury-goods companies in the long term."
Richemont bought the two-thirds of Net-a-Porter it didn't already own in a 2010 deal that valued the retailer at 350 million pounds ($550 million). Weber estimates Net-a-Porter's sales reached 580 million euros ($728 million) in the year through March and will be about 660 million euros for fiscal 2015.
Shares of the Geneva-based company, whose 20 brands include Cartier and Montblanc, traded 2.1 percent higher at 86.80 Swiss francs at 12:13 p.m. in Zurich, giving a market value of about 50 billion francs ($52 billion).
No final decision on a sale or IPO has been made, and Richemont may choose to keep the business. A representative for the company declined to comment. Richemont Chief Financial Officer Gary Saage said Nov. 7 that the luxury-goods maker hadn't changed a decision made last year to keep all its brands.
Natalie Massenet
Net-a-Porter, which sells $2,495 Stella McCartney blazers and $4,900 Fendi handbags, is unprofitable and has been without a chief executive officer since July. Founded by former fashion journalist Natalie Massenet in 2000, the Web retailer faces increasing competition from sites such as Matchesfashion.com and Mytheresa.com, which department-store Neiman Marcus Group Ltd. agreed to buy in September.
Richemont said last year Net-a-Porter isn't for sale, after reports it held talks to sell the unit to Italian rival Yoox SpA. A spinoff of Net-a-Porter would also revive speculation the company could break up its fashion and leather-goods division, a move it also ruled out last year.
"In the short term, I don't think divestments are a topic," said Vontobel's Weber, adding that it would be the wrong time to sell ailing handbag maker Lancel as it is in the middle of restructuring. "In the long term, it's definitely an option."
Before it's here, it's on the Bloomberg Terminal.
LEARN MORE