Abenomics in Peril
The economy contracts again, and Abe calls an election
By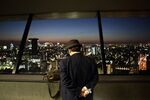 Prime Minister Shinzo Abe is running out of time to prove that Abenomics is more than just a series of monetary and fiscal adrenaline shots that will quickly wear off. Improving wage growth and increasing consumer demand, to give companies a reason to invest at home, are essential to his turnaround plan, meant to lift Japan's economy out of its two-decade-plus funk. Consumers have cut their spending sharply in the wake of a three-point hike in the sales tax to 8 percent, and wages have failed to keep up with inflation, which rose after the higher tax increased the price of goods and services.
On Nov. 17, Japan announced a 1.6 percent drop in third-quarter gross domestic product. The decline followed a 7.3 percent contraction in the previous quarter. Two consecutive quarters of decline mean that Japan has entered its fourth recession since 2008. "Japanese households couldn't withstand April's sales tax with their real income falling with inflation," says Masamichi Adachi, senior economist at JPMorgan Chase in Tokyo. The tax increase was designed to reduce the budget deficit, which is 9 percent of GDP, and the public debt, which is $8.5 trillion.
To regain momentum, Abe announced on Nov. 18 that he is deferring another planned increase in the sales tax from October 2015 to April 2017. He's called an election to get the popular backing he needs to push through the structural reforms he promised. Those include opening farms to foreign competition, allowing more flexibility to hire and fire workers, and bolstering corporate governance so shareholders get a better deal.

Getting these reforms through the Diet will require political muscle, and Abe hopes a decisive victory at the polls will provide that. His government, which is expected to win the election, is also pulling together a stimulus program that will add to the 10.3 trillion-yen ($87 billion) stimulus announced a month after he came to power and a further 5.5 trillion-yen boost unveiled in December 2013. The program will be aimed at supporting those hurt by the lower yen and getting regional economies back on their feet.
The approval rating of Abe's cabinet has fallen to 44 percent, from a high of 66 percent in April 2013, according to polls by public broadcaster NHK. "Before the sales tax increase, he did just about everything right," says Yoichi Takahashi, a former Finance Ministry bureaucrat, Kaetsu University professor, and Abe economic policy adviser. "I told him at the time I was against the sales tax increase, but he said everyone was telling him it wouldn't harm the economy. When I saw him recently, he said I was right."
Abe has an ally in Haruhiko Kuroda, the Bank of Japan governor, who on Oct. 31 announced a further boost in the central bank's monthly government bond purchases from banks. The BOJ will also increase the shares it holds in exchange-traded funds and real estate investment trusts. The idea is to give banks and funds more money to put to work in loans and investments. The aggressive monetary moves lit a rocket under Japan's Topix stock index, which is up 65 percent since Abe took office in December 2012. In October, Abe's government signed off on a plan that pushes Japan's $1.1 trillion public pension fund to invest more aggressively in the stock market. Commercial property prices in Tokyo and other major cities have perked up. Profits at Toyota Motor, Fuji Heavy Industries, and other exporters are reaching record levels.
All of this is great news if you own stocks or commercial buildings or run a Japanese multinational. Ordinary households have less to cheer about. Abe has acknowledged in a series of speeches that he has yet to bring economic benefits to the regions outside Tokyo—an imbalance he vowed to tackle in the current session of parliament. Promised probusiness reforms—joining a U.S.-led regional free-trade partnership and lifting a ban on casino gambling, for example—have gone nowhere.
Abe faces divisions within his own Liberal Democratic Party on many of these issues. "In terms of resistance to reforms that will always be painful, we are probably somewhere stuck in the middle," says Martin Schulz, senior research fellow at the Fujitsu Research Institute in Tokyo.
With the second sales tax increase deferred, Abe has to figure out how to cut the fiscal deficit while funding social security and health costs that take a bigger bite out of the country's budget each year. If Japan gets an expected bump from infrastructure spending in the runup to the 2020 Olympic Games in Tokyo, and wages rise as a result, the tax hike in April 2017 may not be as painful as the first one. Abe's three-pronged strategy of radical monetary easing, heavy fiscal stimulus, and serious regulatory reform was never going to be easy. This election could provide his last best chance at reviving Japan.
BOTTOM LINE -
The bottom line: With Japan in recession once again, the flaws in Prime Minister Abe's economic plans have become obvious.
Before it's here, it's on the Bloomberg Terminal.
LEARN MORE