Immigration Reform Is Just Too Hard for Congress
Everybody says the system is broken, but nobody has figured out how to fix it.
By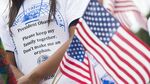 Not long ago, rewriting U.S. immigration policies was such a popular cause that business owners and labor organizers were co-signing pleading letters to Congress. Small-town sheriffs and pastors were flying to Washington to meet with lawmakers, while Silicon Valley techies hosted tweet-ups to press for action. 
And that may be the primary reason big legislation stalled in the U.S. House last year. With everyone trying to squeeze into one bill, it was easy for anyone to find something to hate about it. President Barack Obama on Thursday will announce executive actions that accomplish a few of the pro-reformers' goals, including a reprieve for the undocumented parents of children born in the U.S. and an expansion of permits for high-skilled foreign workers. Many other interested parties are left out: There's nothing to help small-business owners or farmers, for example. And now, even the guy who says he came up with the term "comprehensive immigration reform" admits defeat.
"If there was any chance at all for real reform, which can only come from Congress, we would be begging the president to hold off," said Frank Sharry, sounding dejected in an interview laced with F-bombs. Sharry, who founded the group America's Voice, has spent 30 years working on immigration law. He came up with soundbites to help dense policy penetrate the electorate. After coming close to passing legislation in 2006, 2007, 2010 and just last year, Sharry, who has been arrested for the cause, has basically given up on Congress.
"The idea that Republicans are on the verge of doing anything meaningful does not pass the laugh test," he said. He's convinced it will take either a Democratic House or years of Republican general-election defeats before the GOP shakes off its worries about anti-immigrant Tea Party primary challengers and turns its attention to a revision of the visas system, border policies and a method for dealing with the millions of undocumented residents already in the country.
Tamar Jacoby, president of ImmigrationWorks USA, a network of small business owners who wanted congressional reforms, agrees with Sharry that the chances of them happening are bleak. Unlike Sharry, however, Jacoby blames Obama, not Republicans. "What he's doing is naked politics," Jacoby said of the president. "He sees that if he baits Republicans in this way, they'll object to abuse of authority, giving Democrats a way to say to Latino voters that Republicans hate brown people."
After the election, Obama could have called House Speaker John Boehner and new Senate Majority Leader Mitch McConnell into a back room and tried to find a way to tackle immigration, Jacoby argues. "Instead he chose public brinksmanship," she said. "It's a political game." If so, it's one Boehner and McConnell also seem eager to play—Boehner's spokesman, for instance, has begun calling the president Emperor Obama.
But most of the groups that were part of the broad coalition that pushed a bipartisan bill through the U.S. Senate in 2013 are staying quiet, or putting out bland statements saying Obama's actions don't solve the problem. Some think there may still be something in it for them. Facebook founder Mark Zuckerberg's immigration group, FWD.us, spent more than $50 million urging Congress to take action; it now says at least Obama is doing something (plus the executive actions would clear the way for more tech workers). The U.S. Chamber of Commerce, which disagreed with pretty much every Obama policy except immigration, says it will "continue to make the case for meaningful reform."
There's at least one optimist: the fellow who helped all those sheriffs and pastors fly to Washington in October 2013. Ali Noorani, director of the National Immigration Forum, said Republicans should seize the issue by overriding Obama's executive action and crafting their own plan next year—and he claims there are signs they will do just that. He pointed to "a convincing case" that conservatives can read in the Washington Times.
"You know what?" he said "I think the band can stick together."
MORE ON BLOOMBERG POLITICS