Immigration Reform Is Just Too Hard for Congress
Everybody says the system is broken, but nobody has figured out how to fix it.
By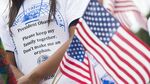 Not long ago, rewriting U.S. immigration policies was such a popular cause that business owners and labor organizers were co-signing pleading letters to Congress. Small-town sheriffs and pastors were flying to Washington to meet with lawmakers, while Silicon Valley techies hosted tweet-ups to press for action.