China Factory Gauge at 6-Month Low Bolsters Easing Case: Economy
Bloomberg News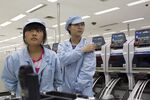 A Chinese factory gauge fell to a six-month low in November, adding to signs broader stimulus is needed to halt a slowdown in the world's second-largest economy.
The preliminary Purchasing Managers' Index from HSBC Holdings Plc and Markit Economics was at 50.0, below the median estimate of 50.2 in a Bloomberg News survey and lower than last month's 50.4. Numbers above 50 indicate expansion.
Following readings that showed fixed-asset investment in the first ten months expanded the least since 2001 and credit growth weakened last month, the manufacturing report suggests targeted monetary easing is failing to boost growth, raising the prospect of further policy support.
"It's clear that the effects of targeted easing measures are waning," said Hua Changchun, a China economist at Nomura Holdings Inc. in Hong Kong. "It's quite obvious that the central bank should cut the RRR," he said, referring to the reserve ratio requirement for banks.
Hua maintained a call for the People's Bank of China to cut the RRR 50 basis points by the end of this year, followed by four more reductions in 2015.
Burdened by overcapacity and weak domestic demand, China's economy is headed for the slowest full-year growth in more than two decades. The central bank has refrained from broad-based interest rate or RRR cuts to avoid a fresh surge in debt.
China's benchmark Shanghai Composite index rose 0.1 percent today, while Australia's dollar held declines.
Funding Pressure
At a regular cabinet meeting yesterday, Premier Li Keqiang said companies are still finding it difficult and expensive to get funding. China could tweak banks' loan-to-deposit ratio calculation by including some interbank deposits, a move that Bank of America Corp. said today had the potential to boost bank loans by 8.1 trillion yuan, though that number would likely be trimmed by the way some of the money would be classified.
The PBOC may need to cut reserve ratios two or three times to offset the impact of additional deposits becoming available for lending, Huang Jie, a Beijing-based analyst with China International Capital Corp, wrote in a note today.
The new measures won't change the "fundamental picture," including rising real interest rates and credit risks, Chang Jian, chief China economist at Barclays Plc in Hong Kong, said in a note today. As economic growth continues to face downside risks, the PBOC is likely to cut its benchmark rate twice, one in this quarter and another in the first quarter of 2015, Chang said.
Outlook Worsening
An index of manufacturing output fell to 49.5, a seven-month low and below the threshold of 50 that separates expansion and contraction. Today's report, known as the Flash PMI, is typically based on 85 percent to 90 percent of responses to surveys sent to purchasing managers at more than 420 companies.
"The reading confirms downward pressure on China's economy," said Dariusz Kowalczyk, senior economist at Credit Agricole CIB in Hong Kong. "This adds to pressure on the central bank to do more to stimulate growth and exerts downward pressure on the yuan."
Outside the U.S., the global outlook is deteriorating. Japan unexpectedly sank into a recession last quarter as the world's third-largest economy struggled to shake off the impact of an April sales-tax boost, while European Central Bank President Mario Draghi has discussed using "unconventional measures" to lift the euro area's flagging performance.
"We still see uncertainties in the months ahead from the property market and on the export front," Qu Hongbin, chief China economist at HSBC in Hong Kong, wrote in a statement. "We think growth still faces significant downward pressures, and more monetary and fiscal easing measures should be deployed."
Cut Probability
New-home prices dropped in October in 67 cities of 70 tracked by the government from a year earlier, and in 69 from September, the National Bureau of Statistics said this week. Prices in Beijing declined 1.3 percent, the first annual decrease since November 2012 and a reversal from the 14.7 percent jump in January from the previous year.
Credit growth weakened last month, testing policy makers' determination to avoid broader stimulus measures. Earlier this month, reports showed deceleration in industrial output and fixed-asset investment growth.
While the possibility of policy-rate cuts remains low in the near term, "it is fair to argue that the probability of rate cuts is increasing," Zhu Haibin, chief China economist at JPMorgan Chase & Co. in Hong Kong, wrote in a note today.
(An earlier version of this story included a Bank of America correction of its estimate for bank lending capacity as a result of the new measures.)
— With assistance by Xin Zhou
Before it's here, it's on the Bloomberg Terminal.
LEARN MORE