Lowe's Gains After Closing Sales Growth Gap on Home Depot
Matt Townsend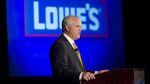 Lowe's Cos. is finally closing in on larger rival Home Depot Inc. in same-store sales growth, one of the most closely watched yardsticks of success in retail.
Lowe's said today that sales at stores open longer than 13 months rose 5.1 percent in the quarter through October. That almost matched Home Depot's 5.2 percent gain and is the closest Lowe's has come to its competitor on that measure in more than four years. Lowe's also raised its annual profit and sales forecast, while Home Depot maintained its outlook yesterday.
Chief Executive Officer Robert Niblock has taken advantage of years of rebounding home values by adding workers in Lowe's stores to help customers with projects. The company's strategy to revamp its product mix with new items and invest more in catering to professional contractors also has paid off, said David Schick, an analyst at Stifel Financial Corp.
"Lowe's has been working on a number of initiatives over time, and you are seeing some of that play out," Schick said in an interview. "They've entered a different gear."
Lowe's, based in Mooresville, North Carolina, rose 6.4 percent to a record close of $62.26 in New York. The gain also marked the biggest advance since May 2009. The shares have increased 26 percent this year, while Home Depot advanced 17 percent. That compares with an 11 percent gain for the Standard & Poor's 500 Index.
Retail Battle
The battle between Home Depot, the largest U.S. home-improvement chain, and No. 2 Lowe's has favored both sides over the years. Lowe's frequently posted better results before and during the last decade's recession, then Home Depot went on its latest run after improving customer service.
Being able to match Home Depot's results is "exactly what we're striving for," Niblock said in an interview. "We want to be known as the best home-improvement company in the business."
Profit in the year through Jan. 30 will be about $2.68 a share, Lowe's said today in a statement. Analysts estimated $2.63, matching Lowe's previous projection. Same-store sales may rise 3.5 percent to 4 percent, up from an earlier forecast for a
3.5 percent gain.
Net income advanced 17 percent to $585 million, or 59 cents a share, in the third quarter. The average of 25 analysts' estimates compiled by Bloomberg was 58 cents a share.
Revenue rose 5.6 percent to $13.7 billion, topping the average projection. The 5.1 percent gain in same-store sales also surpassed the average estimate for an increase of 4.1 percent.
Big Purchases
Big-ticket items such as appliances drove sales, helping purchases over $500 gain 9 percent, executives said on a conference call. The company will buy back $300 million more in stock this year than originally planned, Chief Financial Officer Robert Hull said on the call.
Both Lowe's and Atlanta-based Home Depot view real estate prices and sales of existing homes as key indicators for growth because rising values prompt consumers to spend more on their homes.
Lowe's said on the conference call that an internal survey showed homeowners' interest in investing in their properties is the highest since 2006.
"That to-do list has been on the refrigerator all along, they just weren't willing to invest until they felt better about home values," Niblock said in the interview. "Now they have more confidence."
Home Prices
The median price for a single-family home in the U.S. rose
4.9 percent from a year earlier in the three months through September, according to a report from the National Association of Realtors. That came after gains of 4.4 percent in the second quarter and 8.3 percent in the first quarter. Price appreciation, however, is moderating as more properties are listed for sale and buyer demand slows, the group said.
The number of contracts to buy existing homes also rose less than forecast in September, signaling demand may plateau heading into the end of 2014. The pending home sales index increased 0.3 percent after dropping 1 percent in August, the group said last month. The median projection in a Bloomberg survey of economists called for a 1 percent gain.
Before it's here, it's on the Bloomberg Terminal.
LEARN MORE