Jeb Bush's Delicate Dance with Common Core
The former governor was set to speak about education reform amid a conservative backlash against academic standards he supports.
By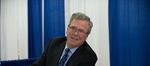 Former Florida Governor Jeb Bush may be figuring a way out of the conservative firestorm that has surrounded him over a set of academic curriculum standards known as Common Core.
In a recent interview with Education Next, the potential Republican presidential candidate was asked to respond to critics of Common Core, who have turned the issue into a political litmus test for the party. "I support high academic standards," Bush said. "Period."
"States are free to modify the Common Core State Standards or adopt their own individual standards, because academic standards are the prerogative of the states," Bush said. "If state leaders don't like common core, they should embrace the challenge of raising their standards even higher. I'll be the first person in line to support them."
The answer is important as Bush decides in the coming months whether or not to run for president. It shows he won't disavow Common Core, which he's long supported, while at the same time trying to put some distance between himself and the controversy by broadening the debate and telling potential primary voters that academic achievement is his top goal, not a specific set of standards. Few conservatives would argue against the need for high-quality academic measures, and Bush is essentially saying that he's open to improvements.
"What he's clearly trying to do is define that the state has the lead here, that it's a starting point and up to the state to expand," said David Winston, president of a Republican strategy firm in Washington. "If people see that it will really benefit students, then that's a positive no matter how you cut it."
The shading represents a refinement of his position from last year, when Bush bristled at the criticism by telling reporters, "If you're comfortable with mediocrity, fine." The 61-year-old will have another chance to expand on his position on Thursday morning in Washington when he delivers the keynote speech for the National Summit on Education Reform, which he and his education group, the Foundation for Excellence in Education, are sponsoring.
While Bush isn't expected to speak specifically about the presidential race, his handling of the issue will be closely watched by the party's conservative base that already harbors reservations about his potential candidacy. 
Polling has generally shown that Democrats are more likely to favor Common Core than Republicans. But broader surveys are somewhat mixed. A Gallup poll released in August showed Common Core was opposed by a majority of Americans who said they had heard at least a little about the standards. Yet results from a Gallup Daily tracking survey in April showed that 52 percent of public school parents who had heard at least a little about the standards were positive about them. 
David Axlerod, who was President Barack Obama's chief campaign adviser, said that Bush's ability to take on Republican critics of Common Core issue would strengthen his chances in a general election against the Democratic nominee. "If he won the nomination doing that, it would make him a very formidable general election candidate," Axelrod said at a Wall Street Journal breakfast last week in Washington. "It's an open question as to whether he can do that. But if he did, that's my point. To win a general election you have to be able to stand up to the most strident voices in your party."
Even though 43 states have adopted the Common Core standards, the academic standards have divided Bush from much of the potential Republican presidential field.
His fellow Floridian, U.S. Senator Marco Rubio, said the standards are well-intentioned but "not the best way to help our children." U.S. Senator Rand Paul of Kentucky told Breitbart News in October that a Common Core supporter "doesn't have much chance of winning in a Republican primary." U.S. Senator Ted Cruz during a trip in March to Iowa, which hold the first presidential nominating contest, that he is "emphatically opposed" to Common Core.
In Louisiana, which, along with Oklahoma, has opted out of the standards, Governor Bobby Jindal had backed Common Core saying it would "raise expectations of every child." But this summer, he vetoed a pro-Common Core bill this year and is now involved in lawsuit claiming the federal government unconstitutionally coerced states into adopting the standards.