Delta Picks Airbus Over Boeing in $14 Billion Wide-Body Deal
Julie Johnsson, Andrea Rothman and Michael Sasso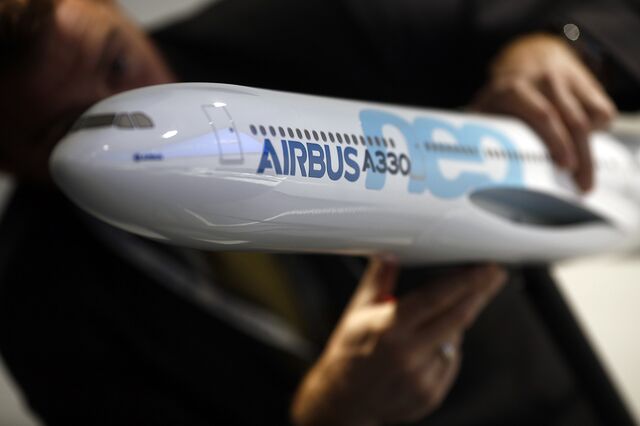 Delta Air Lines Inc. ordered 50 wide-body jets from Airbus Group NV, opting for the European planemaker for a $14 billion purchase following a competition with Boeing Co.
The sale is split between 25 of Airbus's A350-900 planes, an all-new model, and 25 of the updated A330neo, Atlanta-based Delta said today in a statement. The jets will replace Delta's Boeing 747 jumbo jets and 767-300ERs starting in 2017 and 2019, respectively.
Airbus's win builds on earlier successes at Delta, including a 40-plane order in 2013 with a list value of $5.6 billion. Delta had favored models from Chicago-based Boeing over Airbus until acquiring Northwest Airlines in 2008. Boeing supported Delta's bankruptcy restructuring plan in 2007 in the face of a hostile takeover bid by US Airways.
Subbing out jumbos for mid-sized Airbus jets "makes sense given Delta's route structure," said Richard Aboulafia, an aerospace analyst at Fairfax, Virginia-based consultant Teal Group. "I don't think it's an endorsement of Airbus's wide-body competitiveness versus Boeing. On the other hand, this is a nice win."
Michel Merluzeau, an aviation consultant based in Kirkland, Washington, said before the announcement that the A350 may have beaten Boeing's 787-9 Dreamliner because Airbus had more delivery slots due to an Emirates Airline order cancellation, and the U.S. planemaker picked up that theme today.
'Highly Competitive'
"This was a long and highly competitive campaign," Boeing said in a statement. "Boeing competed for the order with the 787-9, but we did not have enough 787 positions available in the time frame that met Delta's requirement."
The decision had been described yesterday by people familiar with the talks who asked not to be identified because the details were still private.
The A330neo is a redesigned, refreshed version of Airbus's long-serving A330, a twin-aisle plane frequently used on trans-Atlantic routes -- a region where Delta is the biggest U.S. operator by traffic. The A350-900 is due to make its commercial debut with Qatar Airways Ltd. in coming weeks.
Airbus lists the larger of the two A330neo variants for $275 million, while the A350-900's catalog price is $295 million. Airlines typically get a discount.
A330neo Endorsement
"I view this as great news for the A330neo," said Merluzeau, the consultant. "It gets a big name attached to it" with Delta's backing, he said by e-mail.
Delta sent out requests for proposals for the aircraft in March as part of its effort to retire older wide-bodies that include the four-engine Boeing 747. The last of the 16 jumbo jets will be grounded by 2017, according to Delta, which also plans to stop flying some of its twin-engine Boeing 767-300s.
Chief Executive Officer Richard Anderson has pursued a blend of newer, fuel-efficient jets, such as the A330neo, and older, less-expensive models that can save on capital costs at the world's third-largest airline. In 2012, Delta agreed to take 88 used Boeing 717s from Southwest Airlines Co.
Delta has been a supporter of the A330neo, with President Ed Bastian publicly urging Airbus to develop the jet almost a month before the planemaker unveiled the model at the Farnborough Air Show in the U.K.
"It certainly fits in with Delta's view of the market," Teal Group's Aboulafia said in a telephone interview. "They tend to emphasize capital costs over range, and I'm sure they got a very good deal for the A330neos."
The A330neo will be outfitted with a redesigned wing and new Rolls-Royce Holdings Plc engines to burn 12 percent less fuel than the current A330, according to Airbus.
By sweeping the competition over Boeing, Airbus also handed a victory to Rolls-Royce, the London-based engine maker that is the sole supplier of power plants for both the A330neo and the A350. General Electric Co. makes engines for the Dreamliner.
Before it's here, it's on the Bloomberg Terminal.
LEARN MORE