How Hillary Clinton Has Dodged the Keystone Question
As Washington debates, the former secretary of State stays mum.
By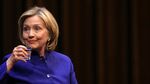 Just about everyone in politics seems to have an opinion about the Keystone XL pipeline—except Hillary Clinton.
On Tuesday night, the Senate narrowly rejected a bill that would have approved the construction of the pipeline, setting the stage for another showdown early next year. If it gets though the incoming Republican-controlled Senate, the legislation will head to the White House and force President Barack Obama to finally make a decision on the project, after a six-year review period. 
As the White House deliberates, the former secretary of State and Democratic presidential front-runner has stayed particularly quiet about whether she supports constructing the 1,179-mile pipeline to transport oil sands from Alberta to Gulf Coast refineries. That hasn't changed, even as debate within the Democratic party over whether to authorize the project burst into public view this week. After Delaware Senator Tom Carper decided Tuesday to allow a vote on the pipeline in the Senate, environmental activists took over his Washington lobby in protest by singing songs and chanting.
All the noise isn't prompting a peep out of Clinton. Here's how she answered a question on the project in a June interview with Canada's Globe and Mail newspaper:
"Our relationship is so much bigger and more important than any one decision—even one as important as this is. Canada is critical to who we are and what we hope to do together in the future. We have no better relationship. [But] this particular decision is a very difficult one because there are so many factors at play. I can't really comment at great length because I had responsibility for it and it's been passed on and it wouldn't be appropriate, but I hope that Canadians appreciate that the United States government—the Obama administration—is trying to get it right. And getting it right doesn't mean you will agree or disagree with the decision, but that it will be one based on the best available evidence and all of the complex local, state, federal, interlocking laws and concerns."
When pressed on her "personal views," she replied: "I can't respond."
She gave no additional details during an appearance in Ottawa last month.
Clinton is certainly familiar with the issue: The State Department, which she headed during Obama's first term, has spent years conducting an environmental assessment of the project, putting the agency at the center of the debate. Staff there have suspended their review until a court challenge in Nebraska over the route's path in that state is settled. And Obama has said he will not make a final decision on the project until the State Department review is complete. 
There's little upside for Clinton in detailing her views. If she backs the pipeline, she risks angering environmentalists, a key part of the Democratic base that strongly opposes the project. That includes climate activist Tom Steyer, a wealthy investor who poured $58 million into this year's midterm elections and plans to spend big again next cycle. But coming out against Keystone could alienate moderate voters in such energy-sensitive states as Ohio, Kentucky, Louisiana and West Virginia. While the latter three have leaned Republican in recent years, Clinton advisers think her appeal with white, working-class voters could make those areas somewhat competitive in 2016.
Perhaps most importantly, taking a position now locks Clinton into a debate that could look entirely different a year from now, when she's likely to be in midst of a presidential election.