Middlebury Picks Patton as College's First Female Leader
Lisa Wolfson and Janet Lorin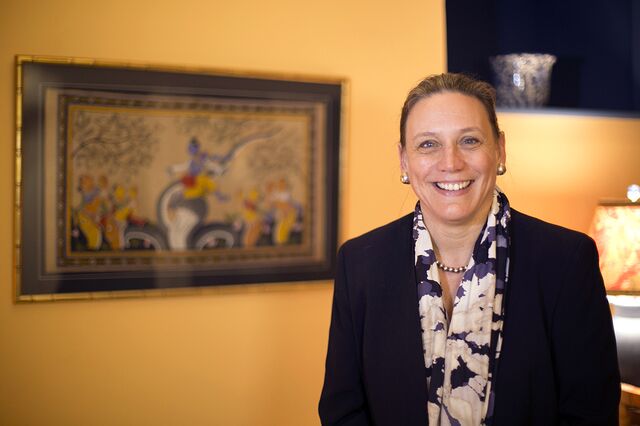 Middlebury College named Laurie Patton, a religious scholar and dean at Duke University, as the first female president of the 214-year-old liberal arts school.
Patton, 53, will step into the role on July 1, succeeding Ronald Liebowitz, who has served as president since 2004, the Middlebury, Vermont-based college said yesterday in a statement.
Patton has been dean of Duke's Trinity College of Arts and Sciences, that university's largest undergraduate school, since 2011. Since then, Trinity has raised more than $300 million for financial aid, professorships and other programs. Patton also oversees its $370 million annual budget. A liberal arts degree is more "important and central" than ever before, Patton said.
"We're hearing from employers how important it is to engage not just with critical thinking, but creative thinking," Patton said last night in an telephone interview. "People are seeing the value of what I call an integrated education," which includes "learning how to turn on a dime and change careers and think about new ways of creating value and revenue," she said.
Patton, who previously held posts at Emory University and Bard College, is at least the second woman chosen to lead an elite higher education institution in the past two months. Cornell University in Ithaca, New York, named Elizabeth Garrett president-elect on Sept. 30. She will replace David Skorton at the Ivy League school on July 1.
Religion Scholar
Patton has edited or written nine books on South Asian history, culture and religion, and penned two volumes of original poetry, Middlebury said. She has also translated classic Indian Sanskrit texts.
"Laurie is an accomplished scholar with a deep commitment to the liberal arts and a global perspective on the value and role of education," Marna C. Whittington, who leads the Middlebury Board of Trustees, said in a statement. "She lives the values of Middlebury."
She earned her undergraduate degree in comparative religion and Celtic languages and literatures from Harvard University in 1983; a master's degree from the University of Chicago Divinity School in 1986 and her Ph.D. in history of religions from the University of Chicago in 1991.
"I can't imagine a place that more fully exemplifies my interests and commitments to higher education than Middlebury," Patton said in the statement.
The board unanimously selected Patton today after a six-month search that began with a list of 250 names, according to the statement.
Liebowitz said last December that he would step down at the end of the current term. At that time, he will have been a faculty member for 31 years, Middlebury said.
Patton's husband, Shalom Goldman, is a professor of religious studies and Middle Eastern studies at Duke. Goldman will become a tenured professor in the Department of Religion at Middlebury, according to the statement.
Before it's here, it's on the Bloomberg Terminal.
LEARN MORE