Meet the Congressman Picked to Lead House Democrats' 2016 Campaign
Ben Ray Luján of New Mexico will lead the political arm of House Democrats seeking a comeback in the 2016 election.
By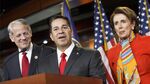 No sooner did the 2014 election end than the 2016 election began, especially for losing Democrats eager to put this year's political debacles behind them.
Thirteen days after Democrats won their fewest House seats in seven decades, Minority Leader Nancy Pelosi on Monday introduced her choice to lead the party's political arm in the 2016 elections: Representative Ben Ray Luján, who was just elected to his fourth term representing northern New Mexico.
Luján is a "dynamic and forward-looking leader with the fresh energy and ideas House Democrats need for victory in 2016," Pelosi said of the incoming chairman of the Democratic Congressional Campaign Committee. (Her choice will be ratified by the House Democratic membership on Tuesday.)
Luján will lead political strategy for a shrunken Democratic caucus that has nowhere to go but up.
Republicans will hold 247 House seats beginning in January, compared with 188 for Democrats, if three uncalled races are ultimately won by the leading party and Republicans also maintain control of two Louisiana districts in runoff elections next month. That would be the biggest Republican majority since the 1928 elections, exceeding the 246 House seats Republicans won in the 1946 elections.
That also means Democrats would need a net gain of 30 seats to win a 218-seat majority in 2016, when there will be a higher turnout in a White House race with no incumbent on the ballot.
"There will be great opportunities in 2016 to make gains with a more favorable electorate during a presidential year," Luján said. "And with many districts held by Republicans that President Obama won, we will be on the offensive to out the majority in play."
With final counts pending in those uncalled House races, there were 26 districts that voted for Obama in the 2012 election and for a Republican in the 2014 election. There are six such districts in New York, three in Florida and two apiece in California, Illinois, Iowa, Minnesota, Nevada and New Jersey.
Luján takes over the DCCC chairmanship from Representative Steve Israel, who had the thankless task of leading the House during the sixth year of Obama's presidency, a point when the White House's party usually struggles in congressional elections. Israel is getting a newly created post as chairman of policy and communications.
"This may be the happiest day in my life," a smiling Israel said as he put his arm around Luján.
Luján is younger by more than three decades than each of his party's top three leaders—Pelosi, Steny Hoyer of Maryland and James Clyburn of South Carolina. He holds the No. 2 position in the Congressional Hispanic Caucus. Luján, whose late father was a New Mexico House Speaker, was first elected to the House in 2008 after serving as chairman of New Mexico's public regulation commission.