Kuroda Wins Wider Majority, Says Inflation May Dip Below 1%
Toru Fujioka and Masahiro Hidaka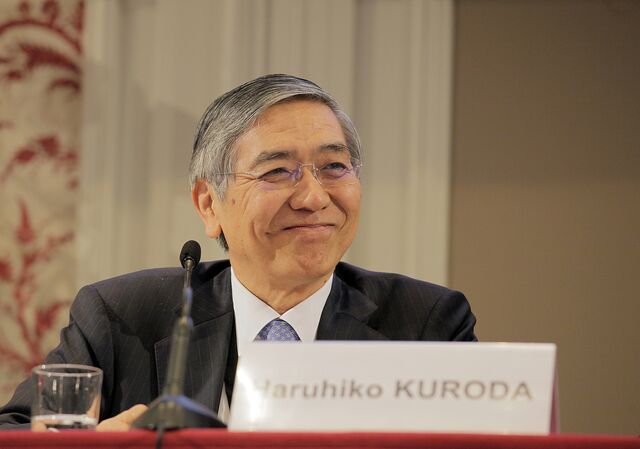 Bank of Japan Governor Haruhiko Kuroda secured a wider majority today and warned inflation could fall below 1 percent after the world's third-largest economy slid into recession.
The BOJ board voted 8-1 to continue expanding the monetary base at an annual pace of 80 trillion yen ($683 billion), following a split decision to boost stimulus last month.
Prime Minister Shinzo Abe is delaying a sales-tax increase and will lift spending as Kuroda implements unprecedented asset purchases. The central bank is targeting price gains of 2 percent in an economy that unexpectedly contracted in the quarter through September as Japan struggles to pull out of two decades of stagnation.
"Slow inflation remains a concern," said Naomi Muguruma, an economist at Mitsubishi UFJ Morgan Stanley Securities Co. "Kuroda will have to consider more stimulus, probably in the second half of next fiscal year, but for now he doesn't have to worry about winning his way on the board."
Consumer prices excluding fresh food rose 3 percent in September from a year earlier, slowing from a 3.1 percent gain in August. Stripping out the effects of April's increase in the sales tax, the central bank's core measure of inflation was 1 percent in September, a level Kuroda said in July wouldn't be breached.
"Oil prices and various commodity prices have fallen, so those effects may come to appear, I think they have already appeared," the governor said at a briefing. "In that sense, there's a possibility of falling below 1 percent."
Weaker Yen
The yen weakened 0.5 percent against the dollar to 117.41 at 6:12 p.m. in Tokyo and is trading near a seven-year low. The Topix share index advanced 0.1 percent.
The prime minister has called an early election in a bid to extend his term and salvage his Abenomics policies. He delayed for 18 months the increase in the sales tax to 10 percent, after a bump to 8 percent in April helped tip Japan into its fourth recession since 2008.
The economy shrank an annualized 1.6 percent last quarter following a 7.3 percent contraction in April-to-June.
The BOJ bolstered its already-record stimulus on Oct. 31, pledging to increase bond holdings at an annual pace of 80 trillion yen. All 31 economists in a Bloomberg News survey forecast now change today.
Kuroda, backed by his two deputies and board members Sayuri Shirai and Ryuzo Miyao, prevailed over opposition from Yoshihisa Morimoto, Koji Ishida, Takahide Kiuchi and Takehiro Sato. That Oct. 31 vote was the closest since 2008, when the bank's board split over how much to cut the overnight lending rate.
Kiuchi was the only dissenter this time. He said a monetary base target the same as before the last meeting was appropriate.
Fiscal Discipline
During the briefing today, Kuroda put the onus on the government to strengthen its finances in the wake of the decision to delay the tax hike. The nation already has the world's heaviest debt burden.
"It's the responsibility of parliament and the government, not an issue for the central bank to be held responsible for," Kuroda said when asked about risks to Japan's fiscal health. The BOJ's job is to achieve its inflation target, he said.
Before it's here, it's on the Bloomberg Terminal.
LEARN MORE