Russia Sees 'No Evidence' of Will to Make Iran Nuke Deal
Ilya Arkhipov and Henry Meyer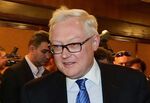 Russia sees no sign of political will in Iran and the U.S. to strike an agreement on the disputed Iranian nuclear program by the Nov. 24 deadline, the top Russian negotiator at the talks said.
"We have no evidence that the necessary decisions have been taken in the major capitals," Deputy Foreign Minister Sergei Ryabkov said over the weekend in an interview during the Group of 20 summit in Brisbane, Australia. "There was progress in Oman but it wasn't enough to say that there was a decisive breakthrough."
Negotiations between six world powers and Iran will resume in Vienna tomorrow after an unsuccessful round of talks among U.S. Secretary of State John Kerry, former European Union foreign policy chief Catherine Ashton and Iranian Foreign Minister Mohammad Javad Zarif in the Omani capital of Muscat from Nov. 9-10.
Diplomats said those talks failed to make headway toward resolving the differences that stand in the way of a deal, including the extent of permitted uranium enrichment activity and the timing for lifting EU, United Nations and U.S. economic sanctions on Iran.
"There are certain difficulties in the negotiations with defining the sequence of such steps," Ryabkov said. "This is because of a different understanding among the parties of what is reversible and irreversible."
The six world powers -- the five permanent members of the UN Security Council and Germany -- and Iran are not considering an extension to the Nov. 24 deadline at this stage because that would lessen the chances of a deal, according to Ryabkov.
"We're not working on any alternative plans, we're not considering the option of extending the negotiations," he said. "We don't want now, when everything should be focused on delivering the solution, to distract ourselves."
The U.S. and its allies, including Israel, say Iran's pursuit of nuclear technology may conceal efforts to gain nuclear weapons, while Iran maintains that its program is for civilian use.
Before it's here, it's on the Bloomberg Terminal.
LEARN MORE